Did you know something that we do well in Stockport is encouraging and helping people to 'go digital'?
In a world where it seems you need to download an app to do anything or remember a password for the littlest thing, right on your doorstep, there are so many ways to make this easier for people!
There are lots of organisations in Stockport that are ready and willing to support local people to get online. There's even a DigiKnow device lending library for people who can't afford a device and a DigiKnow Helpline for access to lots of different types of help.
'Going' digital
We all come across people in our day-to-day work and home life who aren't online or who need help doing things online, and we can all play a part in trying to help them to become digitally included so they don't miss out on opportunities.
I'm sure they won't mind me mentioning it, but my parents were not good friends with 'anything digital'! My mum and dad would always ask me to 'sort things out'…ooh, how they missed paper and 'real people' to get something done!
Until last year, when my son started to tell them about a history project he was doing at school. He asked my dad to be involved to talk about the 'good old days', which he agreed to willingly, but then he was mortified when he realised it had to be done online using Microsoft Teams! But when Thomas showed him how easy it was to log on and join in the class, my dad loved it! Now, my parents have built up their confidence and use the internet to reserve items at the library, buy shopping and even book holidays just like experts!
Get Online Week 2022
During Get Online Week, it's never been easier to 'try one thing' online. The DigiKnow network has pulled out all the stops, and there's a wide range of support throughout the borough. Our website has a full calendar of sessions, so please spread the word to anyone needing help getting online or with digital skills.
 As my mum and dad found out, there are many different reasons for wanting to get online and many different barriers to doing so. This is why some support sessions tackle specific issues, such as online meter readings, job-search, reading e-books and newspapers or buying a discounted refurbished laptop.
Others offer general support – drop-in for help on using the internet, paying bills online, using email or social media and staying safe online. Many are at coffee shops or community centres, and all are friendly and free. DigiKnow is about informal learning and support, perfect to 'try one thing'!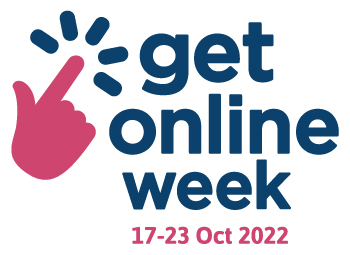 DigiKnow
DigiKnow support isn't just for Get Online Week, of course – it's available all year round. To learn more about what's happening in Stockport to tackle digital exclusion and where to signpost people who need support, why not become a DigiKnow Friend?
Or you can always find support for someone by visiting our DigiKnow web pages or calling the DigiKnow Helpline on 07724 217888.
DigiKnow support is available thanks to a wonderful partnership of local groups, organisations, and volunteers, who run the drop-in sessions, free community classes, Helpline, Device Library and device recycling scheme.
If you'd like to be part of this network, visit our network web pages or get in touch with me. We'd love to hear from you.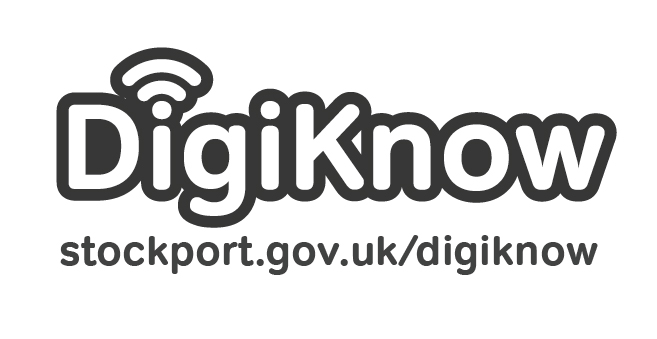 For regular updates from the #DigitalStockport blog, sign up for email alerts.