Continuing our coverage of all things digital in Stockport during Digitober, Greater Manchester's month-long celebration showcasing its digital sector, Paul McGrath of Stockport Council provides an update on the recent digital business meetup in Stockport.
It was certainly busy at The Light Cinema as leading lights from Stockport's digital tech community came together for the latest digital business network.
Held on Friday, 13 October (there was nothing superstitious about the day!) Marie Hamilton, Microsoft Greater Manchester Region Lead, hosted the event, where we heard great talks about AI and innovation and what they mean for businesses from a stellar list of speakers.
Stockport Digital Business Network is going from strength to strength. It provides a great opportunity for local businesses to network and hear about the latest technology innovations, and what a fantastic venue! It's great to see the investment in the town centre paying off, with Stockport becoming a destination of choice for innovative digital businesses.
Artificial Intelligence 
Microsoft's Ross Milhench brought us the latest technology enhancements and busted a few myths about AI. 
Professor Mo Saraee and Katherine Barr from the University of Salford, along with Stephen Slater from the Business Growth Hub, shared real-world stories of companies that have embraced AI to transform their business and guided us through the digital innovation support services available to businesses from the university.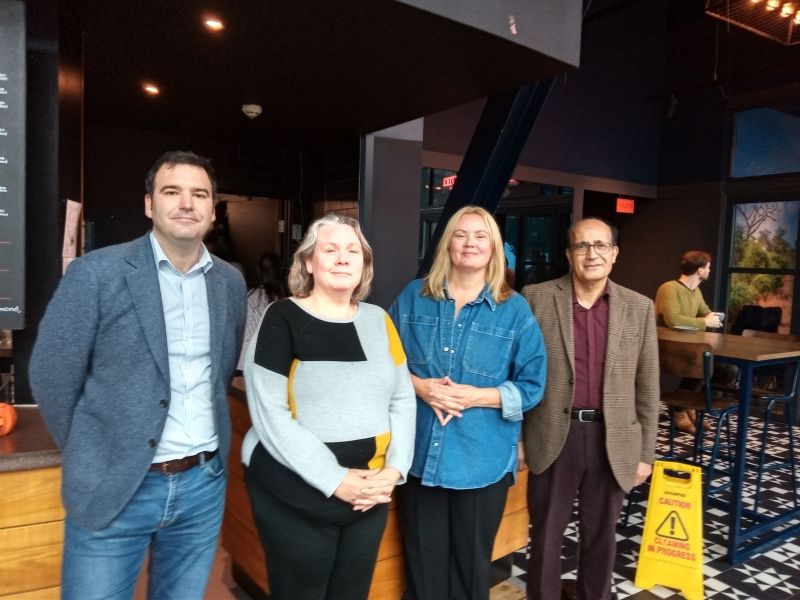 The University of Salford is always looking for ways to reach out to businesses who may not be aware of the ways that they can work with us. The Stockport Digital Network event was a great opportunity to do just that. It offered an engaged audience who were genuinely interested in networking and collaborating with other businesses and organisations.
Stockport Digital Network offered up a fantastic opportunity to highlight how digital businesses can benefit from GM Business Growth Hub support and how that can grow into collaborative projects with GM Universities.
Innovation 
Naomi Timperley told us about her role as Innovation Director providing strategic coaching and growth and innovation support at Merseyway Innovation Centre (MIC), ahead of a guided tour around Stockport's newest business space for digital, creative and tech businesses. Read more about the MIC in our earlier blog. 
The benefits for digital businesses of Greater Manchester's Good Employment Charter were outlined by Stockport Council's Nick Hill.  
Stockport has an amazing and growing digital tech business community of well-established companies new start-up firms and fabulous tech and innovation business spaces. 
To be part of Stockport's digital business network and keep informed about future news and events, please send your details to the team at EconomyWS@stockport.gov.uk.
Sign up for email alerts for regular updates from the #DigitalStockport blog.