A digitally inclusive borough
Our aim is for Stockport to be a 100% digital borough where no one is left behind or faces inequalities as a result of their digital situation. The DigiKnow movement is an alliance of partners from all sectors who have come together to ensure everyone can benefit from digital. Any individual, business, organisation or group who wants to help to tackle digital exclusion in Stockport can join.
Join the DigiKnow movement - email us

In March 2018 Stockport Council established a Digital Inclusion Alliance to help digitally excluded residents to gain the digital skills, confidence and access they need to use the internet in ways that help them to achieve positive outcomes for work, health and life.
We are an alliance of partners from all sectors who bring different expertise and resources to help shape, support and promote the DigiKnow movement in Stockport.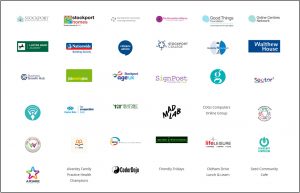 The programme was initially led by Good Things Foundation, the UK's leading digital inclusion delivery organisation, who released a report on the first two years of DigiKnow work.
In March 2020 we were awarded £50,000 from the 'Get Greater Manchester Digital' Fund to help grow the network of community support and the number of residents supported. Starting Point Community Learning Partnership are manage the community outreach. 
COVID-19 response
The foundations laid over the past two years proved invaluable in our ability to respond quickly during the pandemic lockdown. When face-to-face sessions were no longer possible, community groups had to find new ways to reach learners. We set up a DigiKnow Helpline open to individuals and also voluntary sector organisations who need help in reaching their clients remotely. Our Digital Champions were trained to provide telephone and video support to help residents both individually and via Zoom group sessions.
While libraries and places with public Wi-Fi were closed, many residents lost access to the internet, so we provided devices and data to hundreds of Stockport residents, through a combination of projects supported by the Department for Education, the DevicesDotNow scheme, 02 and Stockport Council funds.
This culminated with Stockport Local Fund awarding almost £10,000 to Starting Point to set up a DigiKnowDevice Library. We hope to sustain this lending service beyond the pandemic as it is a valuable addition to our digital inclusion movement.
DigiKnow Helpline and Device Library
If you know someone who needs help getting online or is interested in borrowing a device, please call the DigiKnow Helpline on 07724 217888.
Join the DigiKnow movement as a group or organisation
Building a network of community based support centres is the key goal of this movement.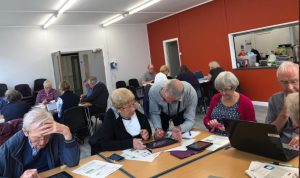 Trusted faces in local places
The people most likely to be digitally excluded are typically those less likely to engage with adult learning due to specific barriers such as financial difficulties, health and disability issues, language barriers or social isolation.
The DigiKnow approach is to deliver digital skills support through established and trusted community groups and organisations who already provide social support. This way there is more chance of helping these hard to reach groups.
We want to recruit as many community groups as possible including:
social/interest groups – could you build digital support into your regular activities?
groups set up to offer aid or help to people in crisis – could you build digital skills support into your regular mission and reduce repeat visits?
groups who have been set up to provide digital skills support, however informal
If you would like to join the partner network please email us or call the DigiKnow Helpline on 07724 217888.
Community groups and organisations offering digital skills support are listed on the Stockport Local online directory.
Help someone to get online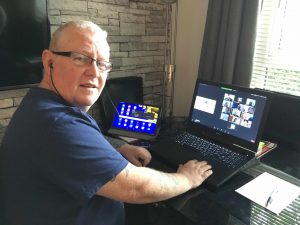 Our Digital Champions support people to get online and to use the internet. You only need basic digital skills as there's training to teach you ways to support learners.
It's rewarding work says Paddy pictured above: "You get a kick out of teaching them and they get a kick out of learning. It works both ways."
Read more about becoming a Digital Champion.
If you could spare some time to help people, please email Starting Point or call the DigiKnow Helpline on 07724 217888.
Help provide data and devices
Our DigiKnow Device Library needs a continuous funding stream as devices will need replacing over time and data is perishable. If your business could donate new devices or data, please email Starting Point or call the DigiKnow Helpline on 07724 217888.
DigiKnow partner Community Computers, (part of Renewal North West), repair and refurbish donated computers, laptops, tablets and smartphones to maintain the DigiKnow Device Library and to sell at low cost to people on low-incomes.
Data security is a high priority and anyone donating equipment can be reassured that items are cleaned of all data prior to refurbishing.
If you can spare any technology you no longer use, please drop off donations at any open Stockport library or at Renewal North West's shop in Shaw Heath, or call 0161 476 2777 to arrange a bulk collection.
The provision of data is an ongoing challenge, but we have been able to offer data packages with over a third of the devices. Going forward it is our hope that new national data schemes will come to fruition and we are supporting the #OperationWiFi campaign which aims to find solutions to free and affordable Wi-Fi for those who need it the most. Register to be part of #OperationWiFi.
Why does Digital Inclusion matter?
Across Stockport, many adults still lack the basic digital skills they need to participate in today's world. 28% of Stockport's population make only limited use of the internet, and a further 13% don't go online at all.
People who are offline are missing out on all the benefits the internet can provide, from helping them to find work, to saving money and keeping in touch with friends and family. And as more and more services are moving to online only, there is a risk that some people are being left behind and becoming excluded.
The COVID-19 pandemic brought this to a head. As residents were locked down, those without access to the internet were excluded from employment, education, online services and online support from family, friends and their communities. The need for digital has become more apparent than ever.
The three main barriers to getting online are the lack of motivation, lack of skills and confidence and the cost of equipment to access the internet.
Motivation has been the most significant barrier with the greatest apathy towards digital being within our older population. More than half of non-users say they don't go online because 'they don't see the need' or because 'being online is not for people like them'. During lockdown we have seen an upsurge in motivation to get online, as people who weren't interested before needed digital to shield, complete school work, order shopping online, find out information or keep up with family. But it remains a barrier for some.
With this new surge in awareness of digital benefits came a new surge in demand for kit and connectivity. 15% of non-users of the internet cite cost as the main reason they are not online. Whilst our Stockport libraries have free Wi-Fi and free-to-use devices for residents to access the internet, actually getting to the library can be a challenge for some people. And during the COVID-19 pandemic libraries had to be closed and some residents lost their only access to the internet.
Digital inclusion is a necessity. People need access to devices, connectivity and digital skills