A Radical Digital Council
Our citizens are at the heart of everything we do in Stockport and our digital transformation programme embodies this. What we are changing goes way beyond new digital technologies - it's about people and culture. Our digital strategy is driving new working practices to ensure we're fit for the future, fundamentally reshaping our services and the way we interact with individuals and communities.
Our Vision
87% of people in Stockport are already online and enjoying the benefits of using the internet. They have 21st century expectations of customer service. To meet these and future expectations of customer service we are focusing on our user journeys and modernising the way people access council services.
We are significantly improving customer experience by embracing all the opportunities digital solutions bring.  These include online self-service, using technology to keep people informed and better connected, engaging with local communities, automating workflow processes and using insights from data to provide the right services at the right time.  Take a look at our Vision Video.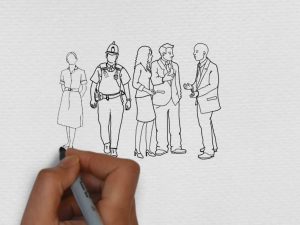 Using digital to deliver services more efficiently also benefits our frontline services in these financially challenged times. By reducing routine demand on more costly channels our resources can be focussed on ensuring support is always available for customers who are vulnerable, unable to access digital services or have complex circumstances.
Agile Working
Technology is changing fast and the only certainty is that it will keep changing.  We need the ability to evolve to address future changes so we have invested in our own skills and capability, creating our own digital solutions to GDS (Government Digital Service) standards to allow our transformation to continue. Key to this was our adoption of new agile ways of working to enable us to build our own technical solutions.
Human Centred Design
We are also transforming our entire culture. To meet the expectations of our citizens and the aspirations of our communities we have adopted human centered design, putting the needs of the people who will be using and delivering the service first, rather than the business goals or technical solutions.
We do everything we can to view the experience through our customers' eyes, to understand what they are thinking and feeling at every touchpoint and have invested in developing new research and design skills including Service design, User Experience, Business Analysis and Content Design.
Human centred design is a mindset as much as a skillset and is everyone's responsibility. We are growing this way of working beyond the digital team to empower our service managers, so they better understand their customers' journeys and own their service redesign, whether the solutions have a digital aspect or not.
Collaboration
The challenges of keeping up with technology, meeting growing customer expectation and delivering to tighter budgets are not things we face alone and as one of the founding signatories of the Local Digital Declaration we are committed to sharing and collaborating to reshape local public services for the benefit of all.
We open-source our new digital capabilities and actively encourage their reuse by other local authorities and public bodies. We have entered into new partnerships with colleagues from other areas and have held Open Days where we have invited local authorities from across the country to see how we work and discuss shared challenges and opportunities for collaboration.
Digitally Inclusive Council
We are investing in digital technologies for those residents and service-users who are able to self-serve, so that we can focus our reduced resources on those who most need our help. But the focus at Stockport is not just about residents accessing council services – digital permeates everything.  We need it for our jobs, to pay bills, stay in touch and increasingly to live a full and healthy life. Helping our residents to become digitally included is a priority for our council – to ensure no one's left behind. You can read more about our Digital Inclusion programme here.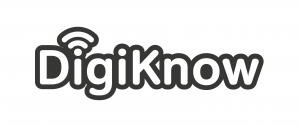 New digital tools and solutions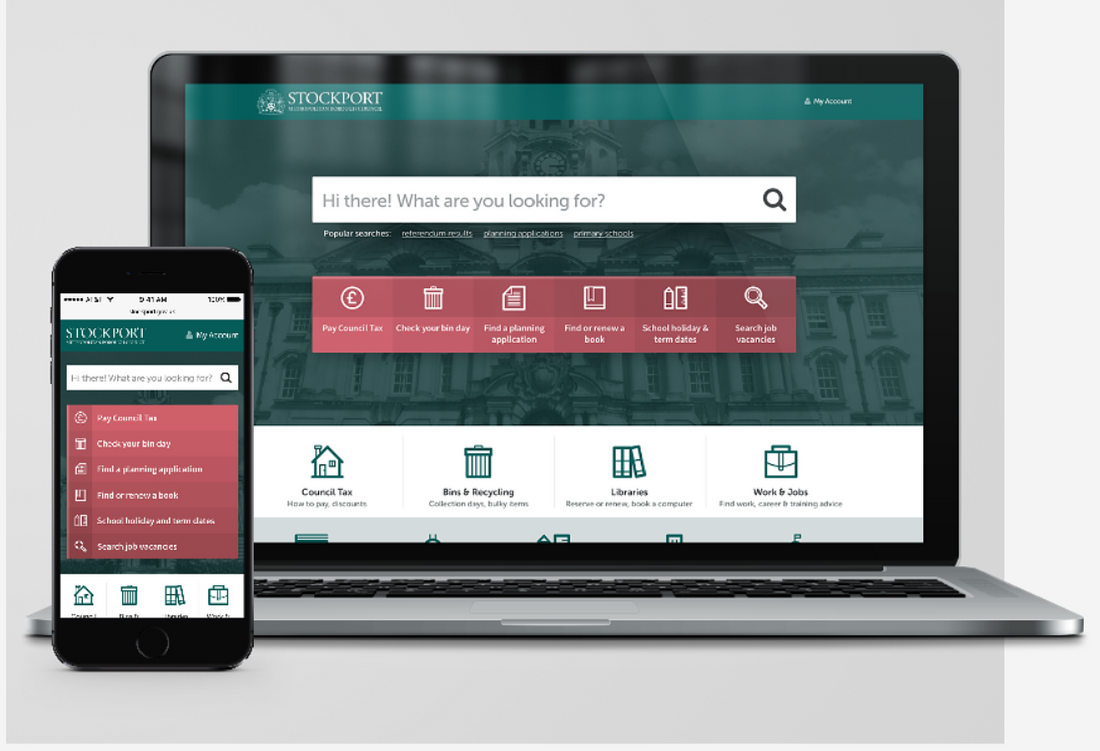 Websites and online reporting
We've built 3 new websites:  stockport.gov.uk where residents, businesses and community groups can report things, apply and pay for services, find out information on a wide range of services and stay connected with events, groups and activities in their community when they need it, BetterOff Stockport (for help with Benefits & jobs) and Healthy Stockport (advice on healthy lifestyle changes). And they all work on mobile phones – on the go – just as well as on computers at home, 24 hours a day, 7 days a week. Good user experience is key to encouraging them to use the new online services as their method of choice. We are proud that around 80% of contacts with the Council are now digital and this continues to grow.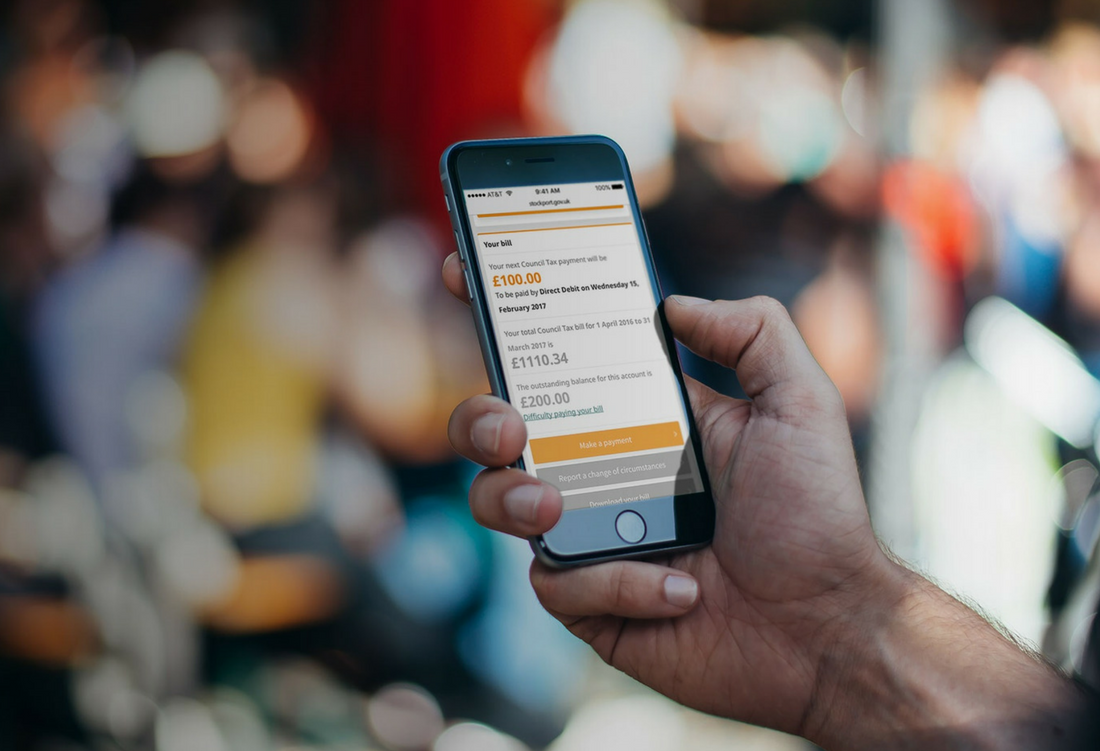 'My Account' dashboard
Around 2,000 new residents are signing up and seeing the benefits of 'My Account' every month.  This single sign on facility is where residents and service-users can access personalised information on council services such as Council Tax, benefits and bin collections.  They can report faulty streetlights and blocked grids, receive progress updates or manage their appointments, 24 hours a day, 7 days a week.  This is improving customer experience and reducing demand in the contact centre's front and back office which is enabling waiting times for home visits to be reduced from 10 to 2 weeks. You can find out more in our video.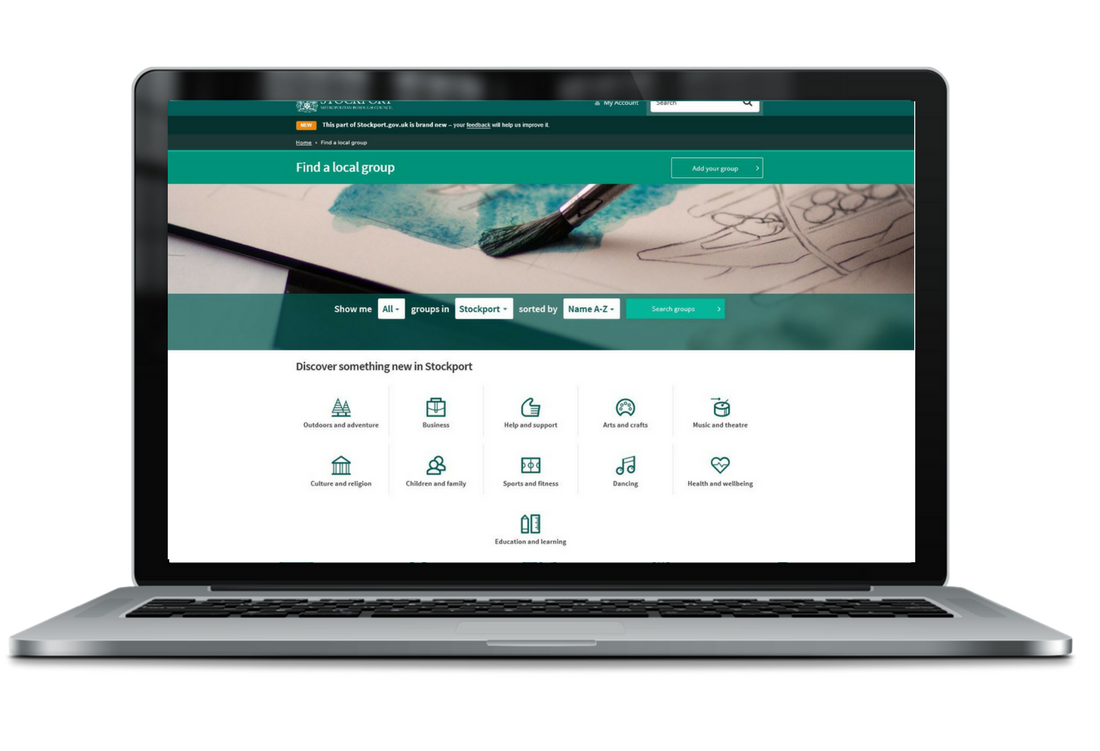 Stockport Local
Better information, advice and guidance is assisting community efforts to connect and grow. Stockport Local, our online groups and services directory, is helping to create more resilient communities by connecting residents with the support they require in their local community. We are using digital to create access to community spaces where groups can meet, organise and hold events. And we have launched a new investment fund, applied for online and processed digitally, to enable us to grow Stockport's voluntary and community sector.  Finally we're using this network of trusted community groups to signpost to where digital skills help is available.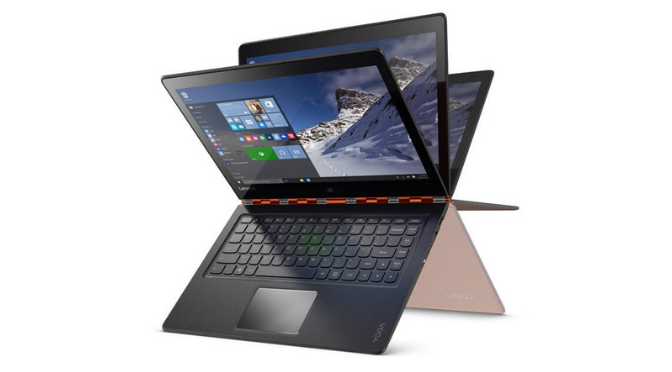 New mobile working methods
We are enabling our workforce to spend more time with residents wherever and whenever they need to rather than being tied to their desks. Our mobile working programme has initially been rolled out to social workers in our Stockport Family service, switching to Cloud-based systems and replacing equipment, so they can access up to date information on the move. This is achieving efficiencies in both time and cost and also better outcomes for residents.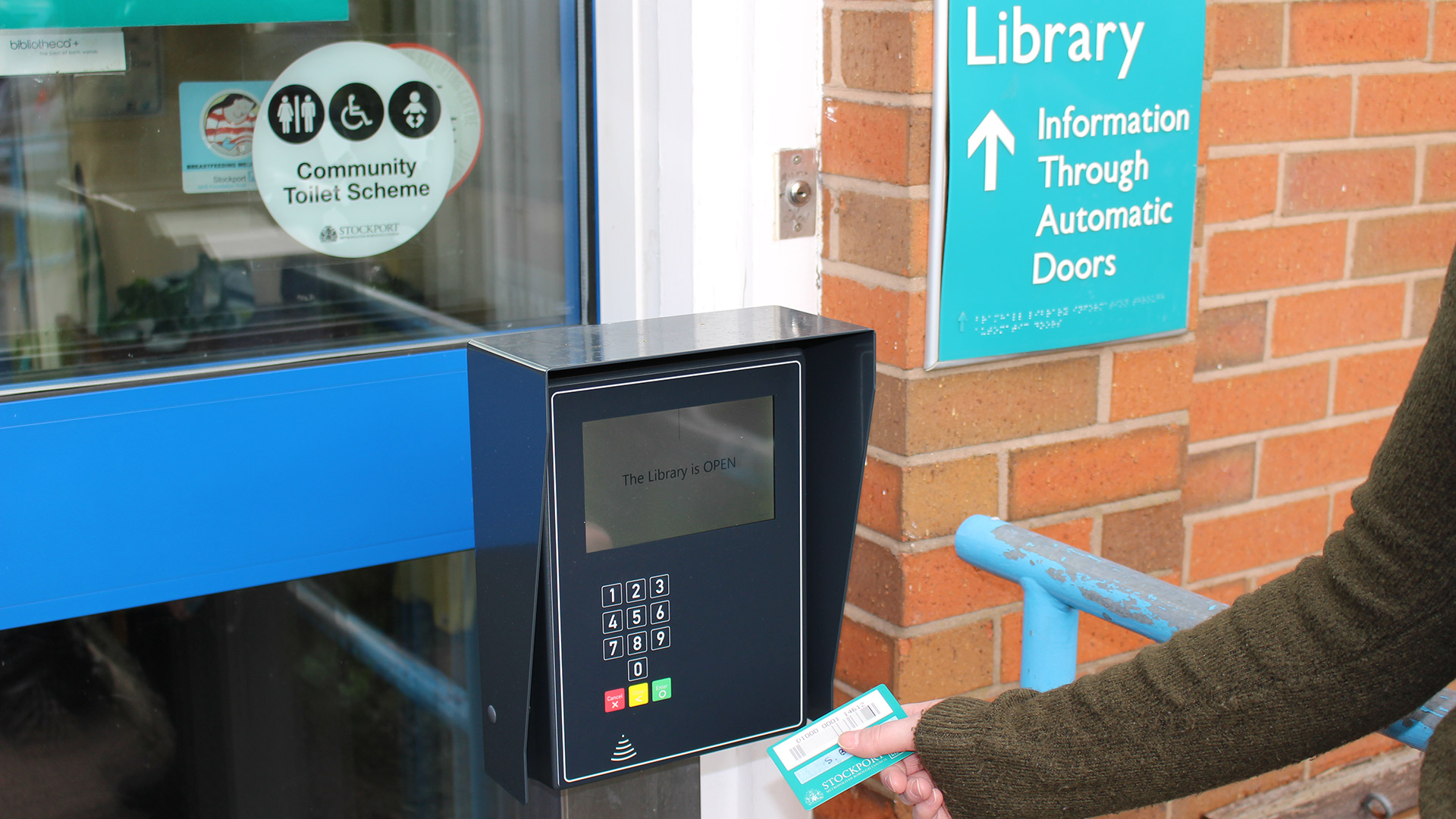 Open+ Libraries
All Stockport libraries now have free Wi-Fi and free-to-use devices for residents to access the internet, as well as staff who can help them get started.  To support this we have started introducing new technology Open+ into libraries which will allow members of the public to continue to use the library long after standard opening hours.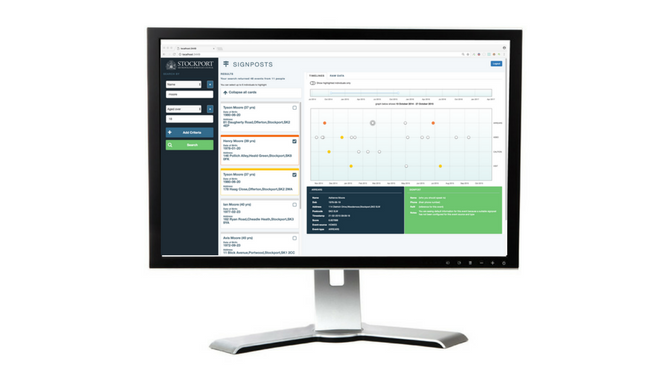 'Single view' of customers
We are carefully, but boldly, navigating data sharing rules by building our own safeguarding triage system called 'Signposts' which pulls together relevant data from different agencies relating to contacts they have had with a child or family.  This is enabling all the little jigsaw pieces of information to be pooled into a single view, with a chronology of events which is saving time and more importantly enabling good decision making and early indication of need.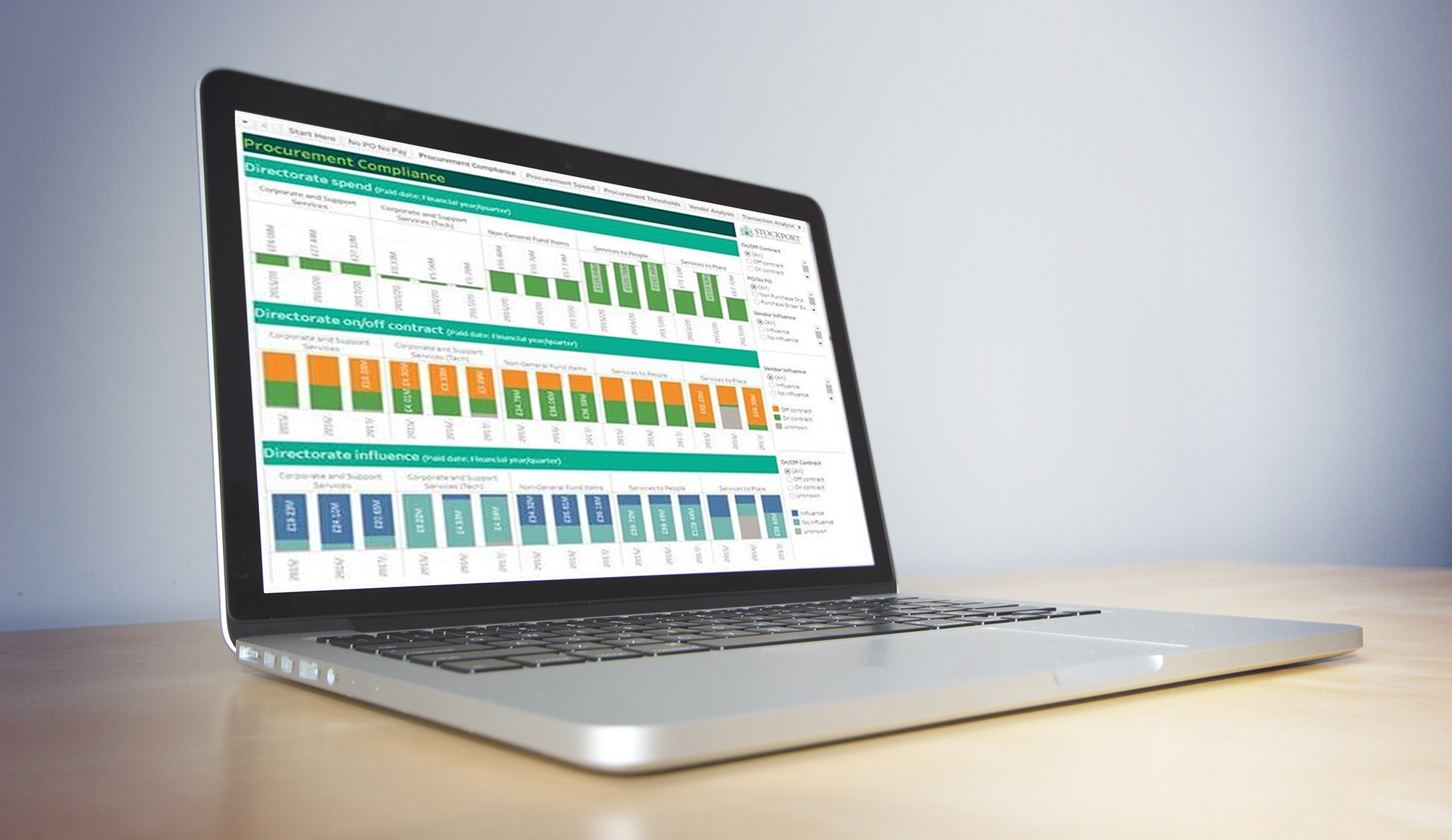 New insights from data
By automating data processing, analysis and reporting we are providing our managers with much easier access to intelligence to inform decision making across the organisation based on citizen needs and behaviours.
Case management tools
We have introduced a new case management system with scripting and smart questions and easy integration to online forms. This has reduced the cost of system support and improved how we manage customer contacts. .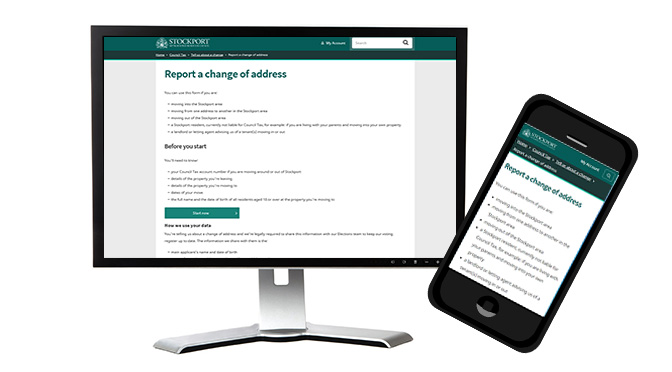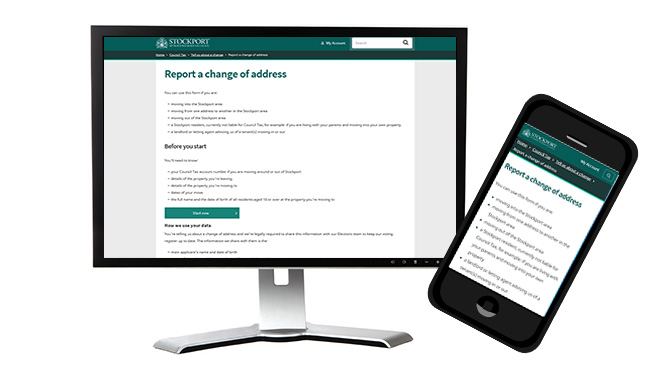 Automations
Automation is delivering efficiencies for the organization and a better quality customer experience.  Automating our Council Tax Change of Address and payment-plan requests has resulted in the time taken to process requests being reduced by weeks, stopping families falling deeper into debt.