The vision for a 'Single View' of a citizen or family is a long held goal of Stockport Council and was the focus of an inception which took place with services last year. Since January of this year the Digital by Design programme has been doing some great data driven work with Stockport Family, Stockport Council's integrated service for children, young people and families.
We have been working on a ground-breaking piece of software called 'Signposts'. Its aim is to pull together event data from many different sources and display them side by side in a single view. This way, professionals such as social workers can quickly get a feel for issues that an individual or family may be dealing with.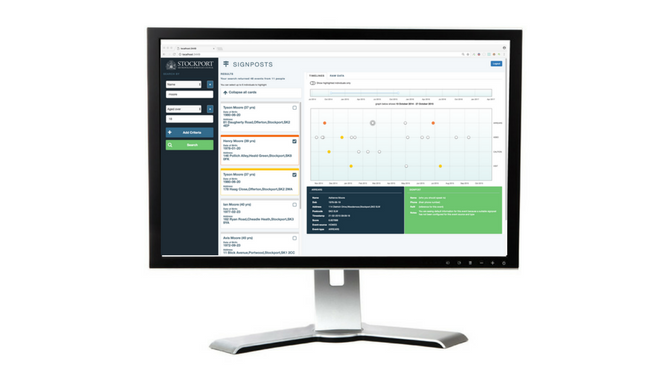 For instance, if a young person's behaviour is problematic at school and the level of concern results in a referral to the Multi-agency Safeguarding and Support Hub (MASSH), Signposts will show date-correlated event data, like school exclusions alongside other events that might be associated with the family. Other events from adults and children's social services, housing associations, charities and other organisations can add context. For each event the system shows follow-up contact details, or 'signposting' information, so the system-user can get in touch with other relevant professionals involved with that family.
Challenges of information-sharing between agencies is the key issue that Signposts has been designed to address. Over the past ten years there have been many serious case reviews which have identified lack of information sharing as a root cause.
The system also frees up time to help families by reducing the number of phone calls, emails and the amount of chasing required to share information. Up to now, no such system has existed and it has been very hard for professionals across agencies to coordinate with one another electronically.
The key challenge to a system like this has centred on gaining access to useful event data from other public sector partners. Robust information security and an enabling approach to information governance has been required so that, for instance, data from other parties can be added into the view. We are currently working with agencies like Greater Manchester Police (GMP), to understand what data might be usefully added to create a more complete picture of a families circumstances, as well as adding increased automation, extra features and a focus on the sustainability of the system.
We have maturely thought through the privacy implications of a system like this and added the necessary protections and controls from the ground up. The system audits the content of each and every search a user makes. Only social workers from Stockport Family in the First Response Team in the Multi-agency Safeguarding and Support Hub (MASSH) whose duty is safeguarding can currently access the system, and use is monitored.
We have delivered the first milestone of this system to the MASSH. Upcoming additional datasets and features are causing significant anticipation and excitement both in Stockport Family and amongst our partners and all the agencies involved.