It's a particularly busy period for the programme as we approach the switchover to the new website and the launch of My Account and more details of the latest programme developments follow.
We still intend to open source the code for our website, although by necessity this has taken a back seat until we have built our own platform, but we are firmly committed to doing this and we see it as a positive collaborative gesture that we hope will encourage others to follow suit. We will publish further details of this in the near future.
Information, Advice and Guidance (IAG)
We are now reaching a point where we are comfortable that we have the level of content and functionality on the website needed to switch from beta to the main stockport.gov.uk site.
Over the last few weeks we have completed some updates to the News section, produced some early designs for a new Events section and added additional splashes of colour to the website in response to user feedback.
We have a few more improvements to make to enhance some areas and there is still some content that has yet to find a home on the new site but we're just about there. Search is an area we are keen to focus on and services are encouraged to contact the content team to flag up any specific queries or requests relating to search terms.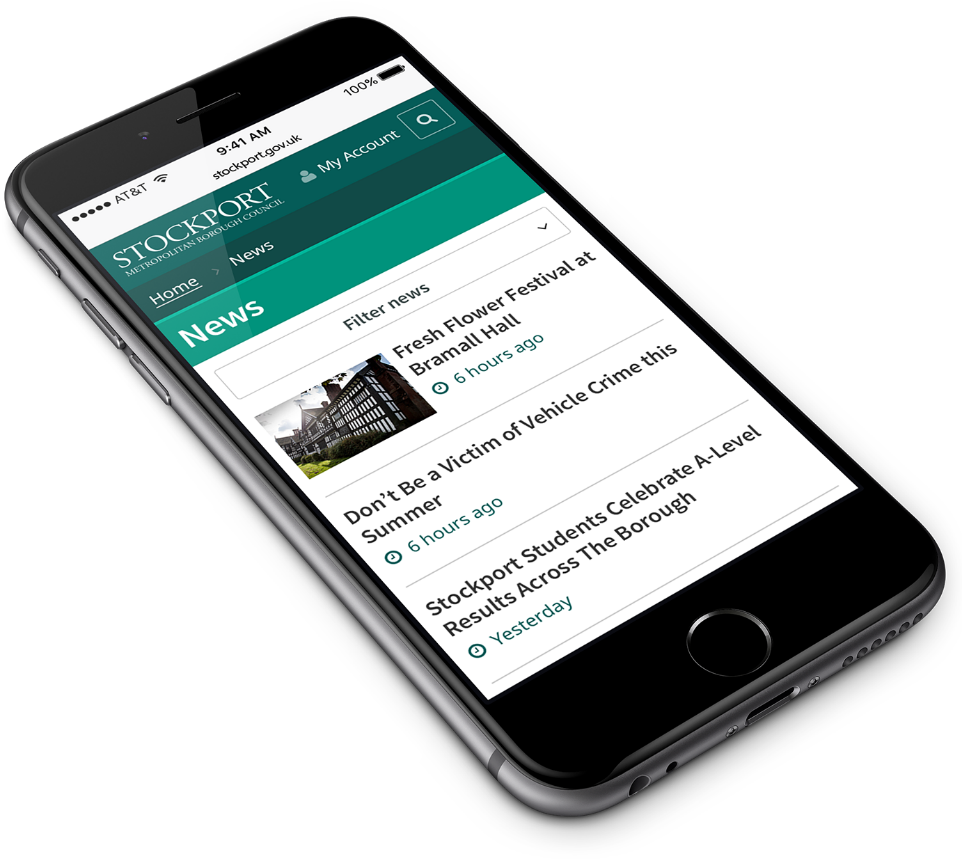 User Experience (UX) Update
Our testing has focused on testing the usability of our primary tasks bar and our search mechanism with two very different searches tested: finding the new bin collection information from the beta website homepage and also finding out information about adopting a child.
On the positive side, we were reassured to learn that every user used the top tasks bar to find their bin collection date which is a great validation of our design.
The vast majority of people that we tested with used search for adoption information: "The search bar is very helpful and I would always just type 'adoption' and expect it to take me directly to the adoption page".
We need to acknowledge that umbrella names, such as 'Stockport Family' are unfamiliar to citizens and are less valid to the navigation process than a number of search terms targeting access to individual services within this directive.
My Account
The soft release of My Account has allowed us to test the software in the live environment with real users and we have already received useful feedback.
We are still adding features and functionality to the Council Tax feature but at the showcase we demonstrated the authentication process on the test environment. We are user testing this and we will continue to enhance this feature based on user feedback, analytics and further user research before we go live.
Case management
The software trial of Verint is now complete and we will continue with the upgrade of the existing case management system.  Verint is built on solid foundations, provides good case management capabilities and has been favourably user tested at the Contact Centre.
Re-designing the Advice service
We have also been working with the IAG teams on service redesign, merging the four former service areas into two teams:
Help with Benefits Appeals and Debt Advice
Local Advice Centres and Home visiting team
We continue to improve self-help on the council website and will be addressing a number of areas including integration of the new Better Off website into the service pages, the re-design of the three current referral forms into one transactional online form and improvements to the online appointment booking system.