Just 3 days to go to our Conference 'DRIVE CHANGE: NEW APPROACHES TO DIGITAL IN LOCAL GOVERNMENT' on Tuesday 4th October. If you haven't booked your tickets yet there are a handful of spaces remaining.
We are recruiting for a number of roles within our programme of digital transformation. Some posts will require candidates with experience but for others there will be learning and development opportunities for those who can demonstrate an aptitude. We are keen to build our own capabilities and would encourage applications from people within the Council as well as externally. If you want to work in a collaborative, Agile environment with a great culture and brilliant people, check out the jobs available.
Latest update on the programme:
Information Advice and Guidance
The last couple of weeks we have developed a Newsroom feature for the beta site, where the latest Council news stories will be published. News features will include images and videos. Items can be scheduled to appear on a future date and soon they will also be shareable on social media.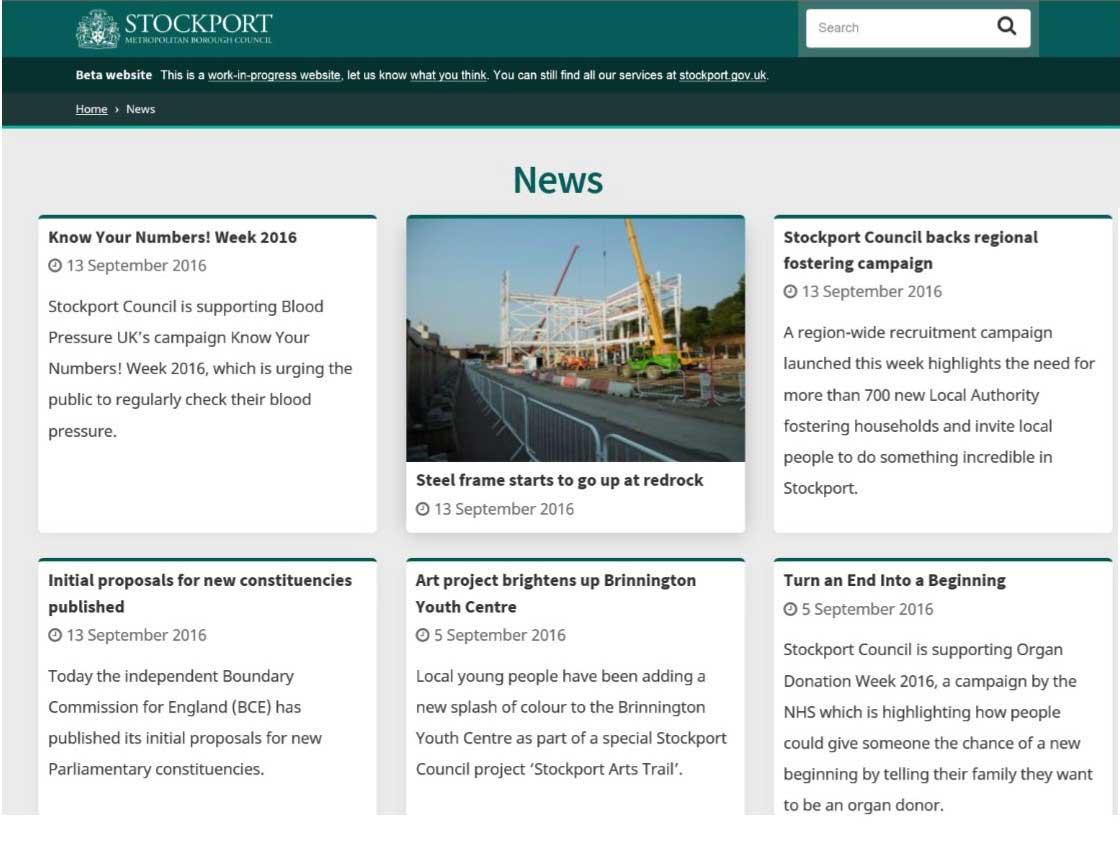 We have developed a search function and also an A to Z of News features for people who prefer to find information this way. We are doing UX testing and analytics to gauge how much use is made of both features. Content management improvements will ensure that Services can agree how content is referenced and if necessary provide multiple descriptions for the same page. All new content added will automatically have the option to be included in the A to Z and deleted pages will be removed dynamically.
Business Intelligence and Analytics
The focus to date has been on Children's Social Care where we currently have two systems in place for BI and Analytics. Both involve a complex series of queries and analysis, only some of which processes are automated. Any changes in outputs required need an analyst to make changes at every step of the process. If we make changes to the case management system for example we have to rebuild the complex queries and the outputs. This means we do a lot of unnecessary and duplicated data processing, we are heavily dependent on our data analysts, and the delivery of the analytics reports is fairly static.
New technical infrastructure
Development of our data warehouse has overcome the problem of data processing duplication. Transformation of the data takes place in this warehouse and the structured tables produced are stored in schemas which are updated overnight.
New BI & Analytics tools
The final stage is to develop the outputs and we are piloting a piece of software called Tableau which produces data visualisations. Our analysts are using the software to produce interactive and dynamic dashboards that can be used by staff to produce insights through visual analytics. This allows relevant data from multiple schemas to be seen on one dashboard in accordance with appropriate access permissions.
We will release this dashboard to Children's Social care over the next couple of weeks in its basic form whilst we continue to improve it based on use and feedback. We are also producing a plan to roll it out to other Services over the next 12 months.