Mobile Working
There has been a lot of behind-the-scenes work on upgrading our SCCM (System Centre Configuration Manager) system – this is a piece of software for managing the Council's computers and Microsoft products.
All the software we are testing under the Mobile Working work stream uses a Windows 10 platform so we needed to upgrade our SCCM system to support Windows 10 rollout. This has now been done and this update enables us to build Windows 10 PCs, laptops and tablets ready for rollout.
It also permits us to manage and update our Microsoft products remotely, cutting down the amount of time ICT Support spends at users' desks dealing with issues or deploying and monitoring applications such as One Note.
Furthermore it is optimised for delivering packages of information over slower links, vitally important if we are to support more machines connected by Public Wi-Fi or 3G/4G.
We are also in the process of contracting off-premises and cloud-hosted distribution points which will allow us to provide SMBC software builds to hardware suppliers so they can prepare the machines for use in Stockport before they are delivered.  This saves ICT Support's time and allows quicker delivery of the equipment to employees.
With these improvements in place we can now start to roll out Windows 10 products and we are developing a Windows 10 training package to accompany this.
IAG
Since Release 2 we have been receiving Feedback on the new websites and making some changes. We've taken some time to look at technical issues and development, to improve the website's stability and performance.
Next iteration
We have also made a start on new features which will be appearing in the next iteration and we have continued to move content across to the beta site. One of our aims is to get as much of the content across as possible, until we reach the 'tipping point' where our beta website has enough content to become our main website.
Two new areas, Parking and Housing, are awaiting approval by the Service Areas and we are also starting to look at Roads and Travel, and Leisure Parks and Attractions.
Updated Style Guide
We've now updated our style guide which was developed initially for the Healthy Stockport website to include the beta site. This will soon be made available on the website so that third parties can present affiliated websites in the Council's style. It will also be useful to help guide Service Areas with developing new content. Any new requests for features that don't yet exist will of course be added into our Style Guide.
One practical example of this is the new School Admissions system which has just gone live. We were able to adapt our Style Guide so that it could work with the new online admissions portal, transforming the 'out of the box' admissions portal into a page that has the look and feel of the new Council website.
Feedback
We've had plenty of feedback since the beta site was launched, both from customers via our feedback form and social media, and from staff across the Services.
Another way we get feedback is by looking at our stats and analytics on the website, These include the number of visits to pages and clicks through to other pages, which shows the user journeys that are being undertaken.
Heatmaps are another useful tool that show us what people are looking at the most on each page.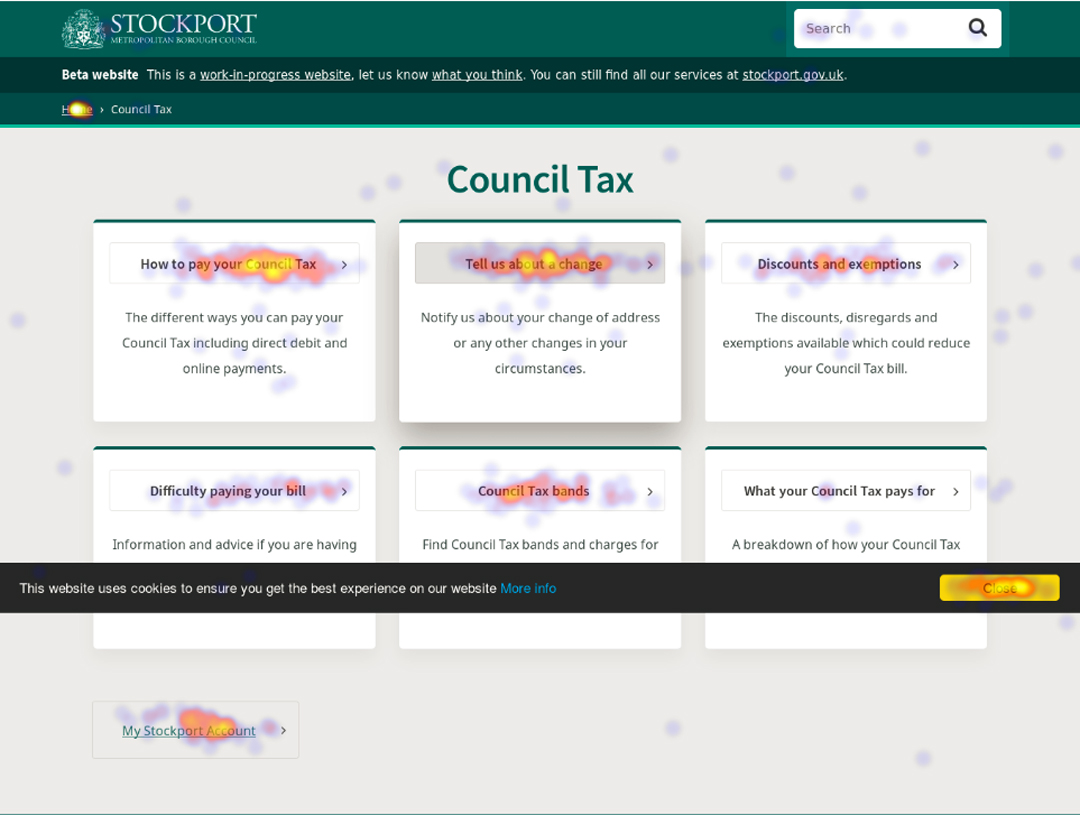 For the Council Tax page this indicated that we needed to change the order of navigation for the most popular sections, to reflect the things people are looking at most. We were able to make the changes quickly and easily on our new beta site platform, with the new layout giving My Stockport Account greater prominence and moving 'What your Council Tax pays for' lower on the page.
We will continue to monitor pages in this way and make changes as required.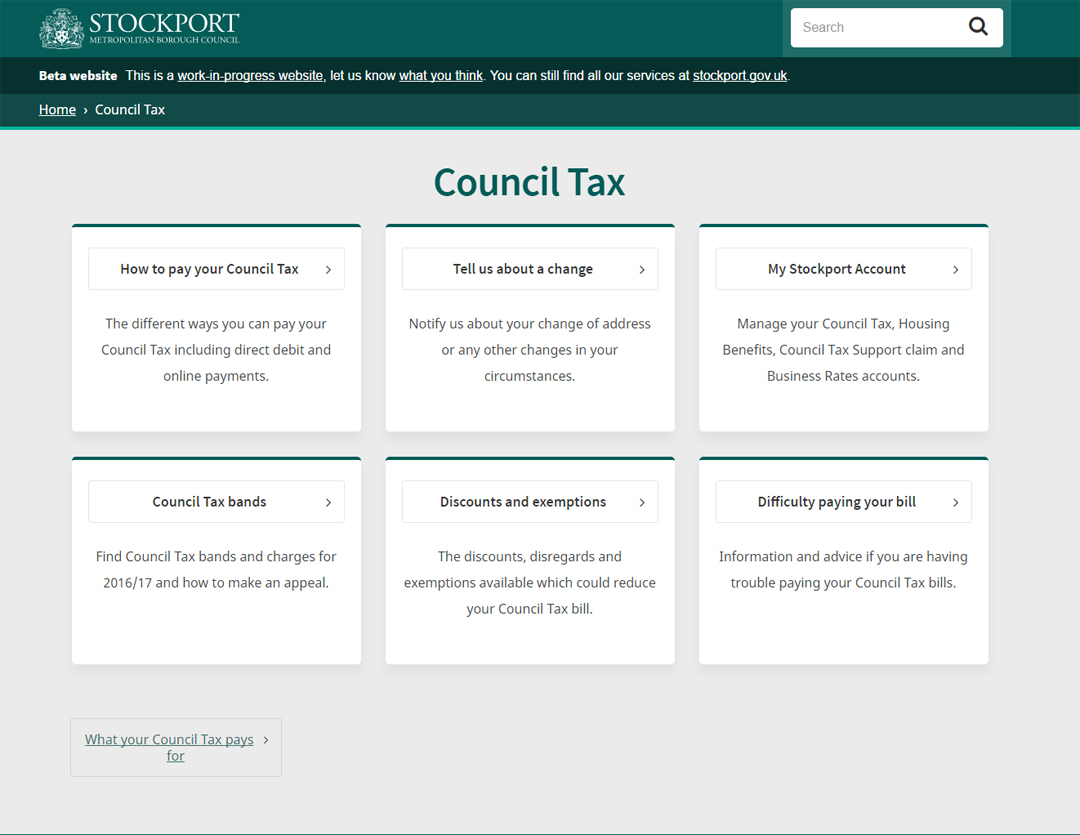 Corporate and Support Services (CSS) – Digital
The Discovery process was run internally with minimal customer involvement and was quite short in comparison with the other work streams. This was because many of the processes and problems have already been mapped out and identified.
There are two main areas the CSS Digital work stream are initially focused on:
Capital Management
We looked at the as-is Capital Management Architecture system currently in place and concluded that a huge amount of time is required by Project Managers to manually manage spreadsheets and that there is no recognised consistent process for carrying this out.
The to-be Capital Management Architecture would therefore include a User Interface to automate those processes and we are looking at various options for this. Construction Project Management is one of our primary focusses.
Procurement
The procurement (Purchase to Pay) process currently involves significant manual intervention leading to duplication, delays and inefficiencies; which start right at the beginning when a user fills in a form to request an item.
Around thirty ideas were captured during the Discovery Workshops and we 'dot-voted' on those that would offer the most value so we could prioritise what would be included within scope of the project.
We will need to create new project teams in order to make these improvements. For capital management there will be a focus on new technical development, for procurement the focus will be on process improvement.