The vision for a Single View of a Citizen or family is a long held goal of services that need to bring together appropriate customer data securely from various IT systems into a shared view.
The Single View system will provide a secure, permissions based view of all contacts a citizen or family have with the council or partner agencies.  This will present staff with real time information as a snap shot, with the option to drill down into more detailed views as required, enabling staff to make quicker decisions regarding the services or help a citizen may need.
What happened at Inception?
The inception for Single View was a good opportunity for different service areas to get together in one room and talk about the work they do, their daily challenges and frustrations and their overall vison for the product.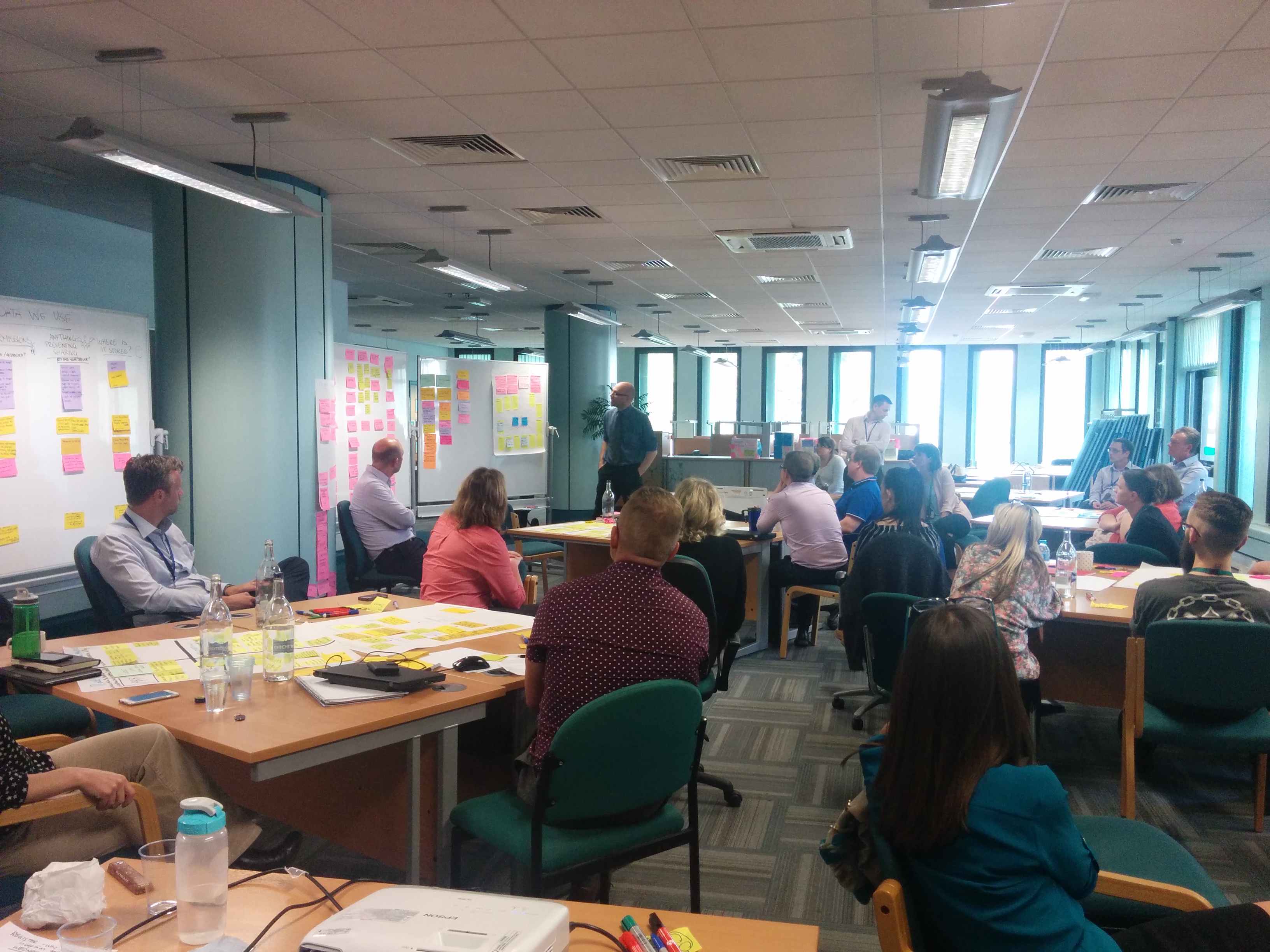 Services presented their needs for a Single View system
They found that they all had similar frustrations over the time it takes them to gather information from various different systems and sources to enable them to make a decision on an appropriate course of action.
Stockport Family and partners explained how they have to work with a range of different IT systems which causes delays in the gathering and sharing of the information they need to make decisions on a family's vulnerability and level of support or intervention they require.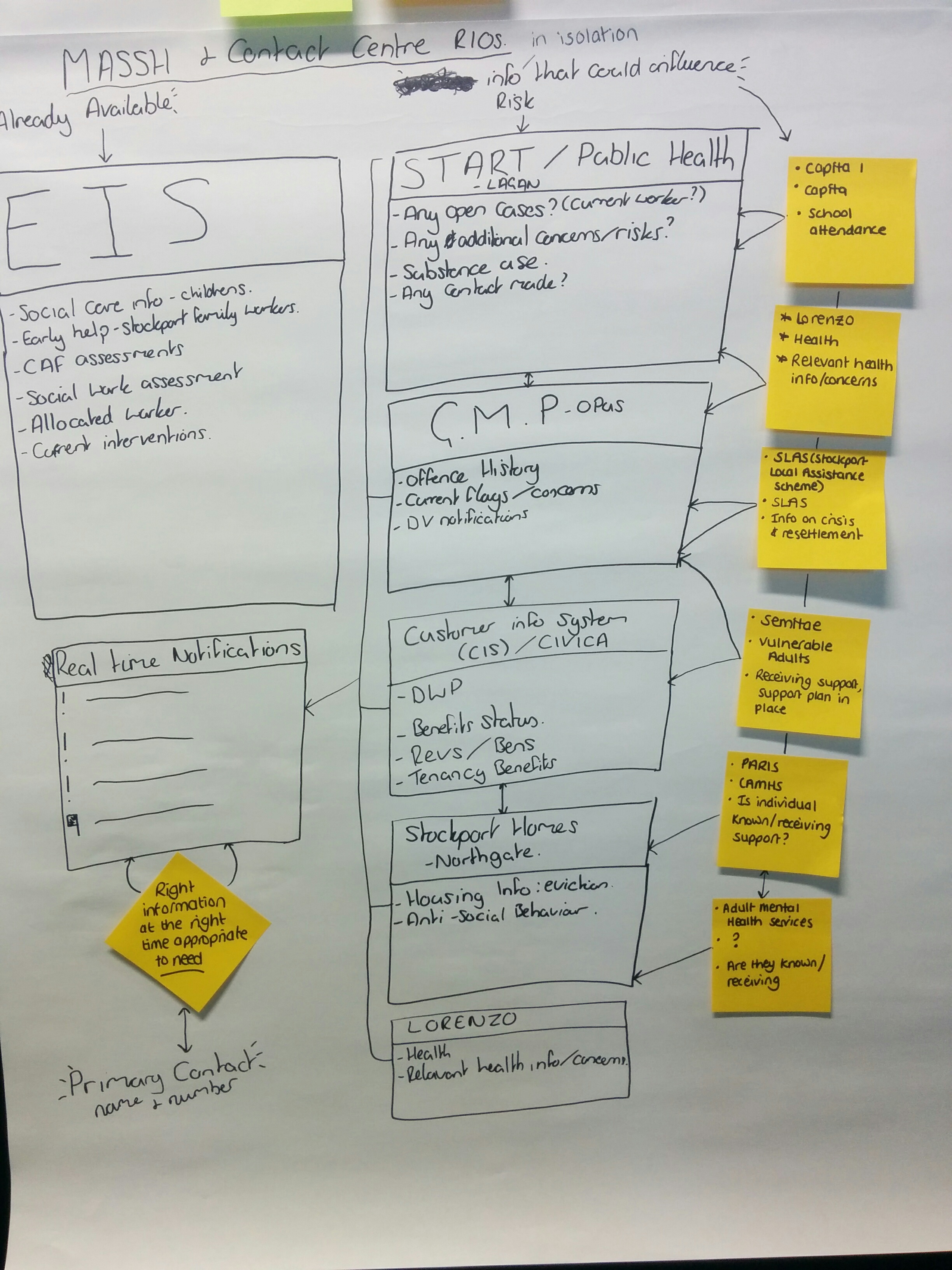 Representation of how data is held in lots of different systems
For Adult Social Care the ability to build up a complete picture of a citizen's financial status from the council's Revenues and Benefits department and welfare rights systems will help them have a better understanding of their situation in order to assess needs correctly.  It will also help them to identify when an adult has been previously known to Children's Services or whether they have any dependent children that may need support.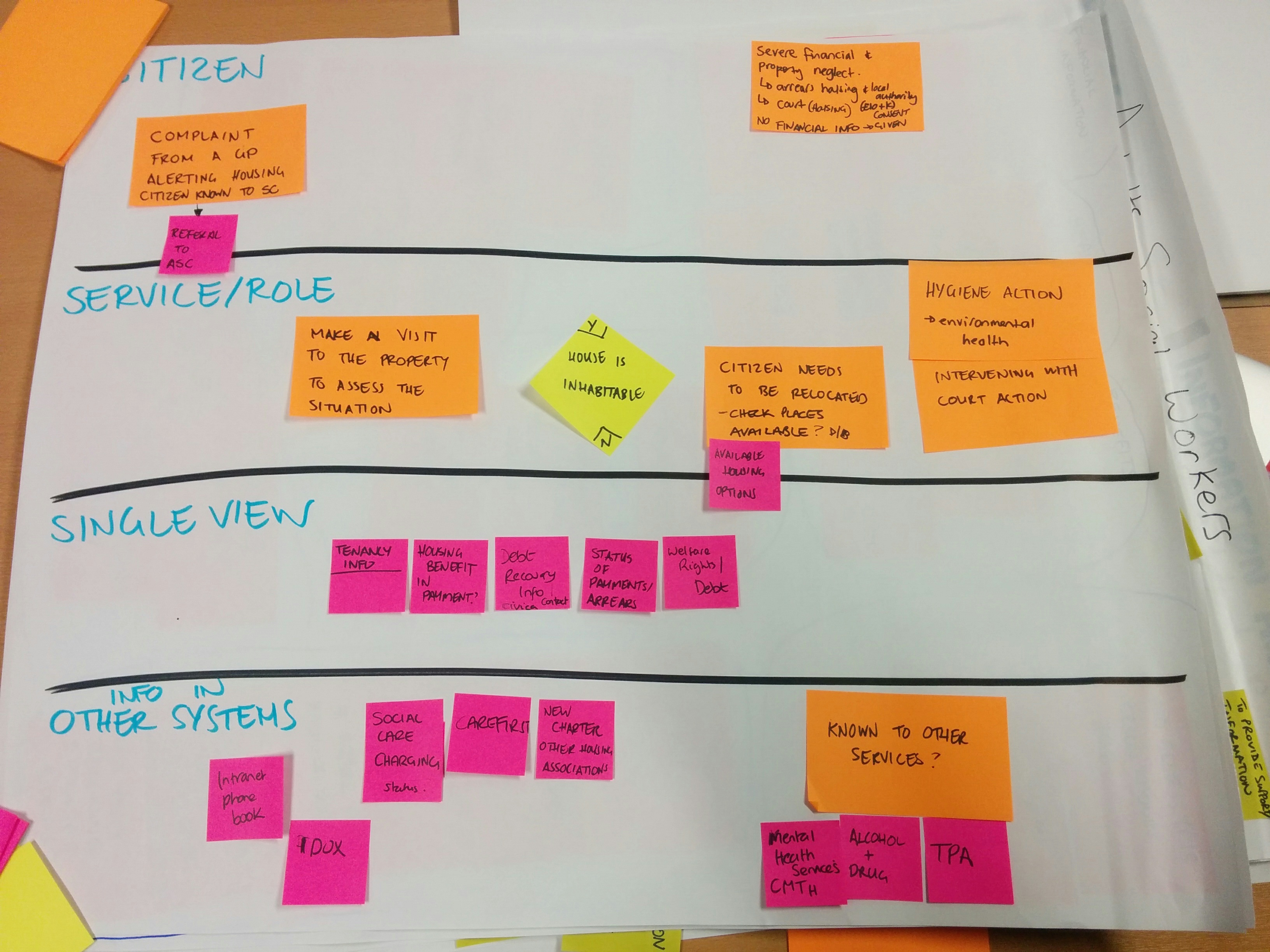 Breakdown of a typical Adult Social Care enquiry and how single view could help.
The Contact Centre, who are the "front door" into both Adults and Children's services will benefit from a combined view of all the data held on a citizen or family to save time on information gathering and speed up the completion of initial assessments.
Simon Percy, Deputy Contact Centre Manager welcomes the development of a Single View:  "We've been frustrated for a long time by the fact that we have to keep customers waiting on the phone while we physically go to speak to someone in the relevant Services in order to find out what we need. If we had that information available straight away we would save time and provide much better customer service. "
What will the system look like?
The new Single View system is being developed in house and will initially be a read only, web based viewer which will pull data from various systems into a combined display on one screen.
The long term vision is that users will to be able to see all information held on a citizen or family in one system (including partner agency information).
During inception the services came up with a long list of systems they use and we identified two systems as the first candidates to bring into the view and provide early benefits across all services.
It was felt that the child and family information held by Stockport Family and the address, tenancy and benefits information held by Revenues and Benefits would give a good starting point for providing a more holistic picture of a citizen's needs when combined into a shared view.
Alison Blount, Head of Revenues and Benefits is enthusiastic: "We have such a rich source of information within Revenues and Benefits that we know would be useful to other parts of the council to enable us to provide a better service. A Single View provides the perfect vehicle to share that information with the appropriate people quickly and efficiently."
What about Information Governance and data sharing?
Obviously a project such as this has Information Governance implications and we are working very closely with the IG team to review our current data sharing policies and procedures and build the process into a permissions layer for Single View.
We have also set up an IG steering group made up of members of the Digital by Design project team, representatives from each service area and the IG manager who meet regularly to address data sharing issues.
What happens after Inception?
Following inception we have now moved into the analysis stage and are carrying out in depth technical investigations into how we can access the data stored in the first two candidate systems and pull this into a single view.  This work has to be done before we can move into delivering working software.
These investigations have gone well and we have proved that the data can be extracted from both systems.  We are now working on building Application Programming Interfaces (APIs) which will translate the raw data pulled from these systems into a user friendly format that will create an interface between the core system and the Single View.