The Co-operative Bank's Digital Bees network is a DigiKnow partner, committed to helping people get online and improve their digital skills. On Friday 14 October, they are running Digital Drop-in sessions to help people across the North West feel safer and more self-sufficient online. Kerry Scott, Service Designer at The Co-operative Bank tells us more.
Building digital skills and confidence
To mark the Digital Bees' 3rd anniversary of working in the community, I've coordinated these Digital Drop-ins at a number of our branches across the UK to help anybody who wants support with queries preventing them from doing the digital tasks they want or need to complete in their day to day lives.
More and more services are moving online, and this digital shift can be positive. But we know that some people feel less confident with technology, and they can feel 'locked out' of accessing some things. We call this 'digital exclusion' and we're extremely passionate about doing our bit to tackle it.
We want to share our knowledge and guidance to help improve lives, such as:
Help to set up an email address

Help to set up and use video calling on a device

Practical tools and tips on staying safe online from scams online.
It's also a great opportunity for anyone who doesn't know where to start when it comes to getting themselves set up online as we're making sure we give as much time as people need when dropping in.
With the rising cost of living crisis, I believe that understanding digital tools and services can help keep costs down and give people the independence and access to support they deserve. So, we really hope we can play a part of making technology more accessible for the Greater Manchester community this Digitober.
What's a Digital Drop-in?
The volunteers can help answer technology questions, especially about:
Getting set up online

Staying safe online

Ways to communicate online

Using the internet

Digital banking

Digital safety and accessibility features
Anyone is welcome – you don't need to be a Co-operative Bank customer.
Our next event will take place on Friday 14 October, 10 am to 4 pm at the Co-operative Bank Stockport Branch, 1 St Peter's Square, Stockport, SK1 1NX. They'll be running at a few other branches across the North West too. 
As well as the Digital Bee Drop-ins, my colleague Michael McGuinness will be delivering a free workshop on Wednesday 19 October at the Re:dish community hub. He'll be sharing online security tips, including topics such as staying safe whilst using online banking and shopping online. Everyone is welcome, and it's set to be a fantastic event.
For more information about The Co-operative Bank's Digital Bees initiative and other events they've organised, you can read more on the Digital Bees' website.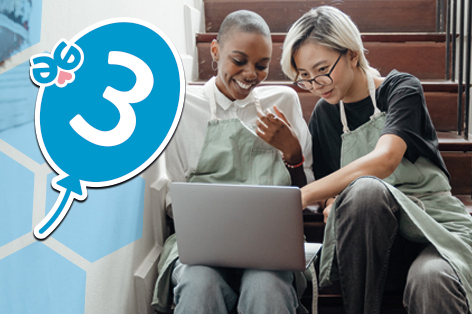 For regular updates from the #DigitalStockport blog, sign up for email alerts.