Us: "We want to design our form to have one question per page"
Suppliers and peers: "What on earth for?  Are you mad?"
Sometimes, we find ourselves questioning what we're doing because many other voices say it's odd or unusual, simply because it is 'against the curve' – not how everyone else is doing it. Sometimes we must remind ourselves of the principles of what we're doing and be confident about our evidence base. Sometimes, just because everyone else is doing it one way, it doesn't mean we have to do that too.
The problem
The Care Act requires a local authority to promote individual wellbeing in all that it does, including 'protection from abuse and neglect'. The Act holds that local authorities are the lead adult safeguarding agency and therefore are generally the first point of contact for raising concerns.
Stockport Adult Social Care (ASC) service regularly received referrals from professionals who wished to raise a safeguarding concern about the abuse of an adult. These referrals were mainly made through telephone and email routes and, (particularly via email), were not always fully populated with all the required details or even relevant to the safeguarding process. This often resulted in staff at the contact centre making time-consuming follow-up calls and emails back to the original referrer to clarify things, give advice, and seek additional information.
To create a more effective first contact experience, the contact team wanted to create a new online referral route for professionals, to replace the less efficient telephone and email routes. The new process would prompt users to supply more informed and structured information and automatically copy the data into the internal database workflow.
Co-design with an external supplier
ASC teams use Liquid Logic LAS as their primary case recording database system. Liquid Logic also supplies a 'Portal' that allows users to create and host online forms that import data into the database workflow. The Liquid Logic development team had provided a portal ready to plug and play, which councils can quickly and easily use to create online forms that link to the internal database.
However, we wanted to reconfigure the portal's 'out of the box' look and feel to meet our design principles:
Despite being built on a different platform from other Stockport Council online forms, it was important that the user felt they were in the same environment as any other webpage or web form. Continuity was essential to the design.
We also needed to adhere to the levels of accessibility required of a Local Authority. Stockport follows Government Digital Service (GDS) design principles, and, to maintain the required continuity, our form design needed to adhere to these principles.
The most significant move away from the curve was the need to break down questions. Instead of using the portal's multiple questions per page approach, we wanted to present one question per page with a designed flow.
We are firmly aligned to the design principle: "Asking just one question per question page helps users understand what you're asking them to do and focus on the specific question and its answer". The national research on this is clear, and you only need to use one central government form (remember booking your covid PCR tests?) to see this principle in action.
We quickly realised that following these principles for an Adult Social Care database environment was against the curve. As part of our research and analysis, we looked at other Adult Social Care services in other areas of the country using the Liquid Logic Portal. We saw that no other authorities followed this design principle. Therefore, their forms resembled internal system forms, with long 'multiple-questions-to-one-page' type designs, the opposite of what we envisaged. The peers we interacted with were surprised and confused by our design principles. The suppliers equally questioned our reasoning and wondered why we were straying from such a well-worn path.
So, we brought together colleagues from our Transformation teams (Business Analysts, User Experience and Content designers) and the ASC service and formed a project team, with support from the Liquid Logic developers.
The new form
The new digital solution, co-designed with the external professionals, addresses many of the issues raised:
We created filtering questions at the start, helping referrers make the right choices about whether to submit information as a safeguarding referral or if it was more suitable for a different referral route.
We built the form to guide a user through information collection, adding options to appear for more information, depending on the answers to previous questions.
By collaboratively designing the questions, we were able to build a data collection journey that gathers the elements the contact team needed to create an accurate picture of the concern and how to investigate and allow the referrer to add their reflections and requirements.
We used user research to demonstrate and confirm the importance of sticking to our design principles. We successfully tested the principle of 'one question per page' to see if the user could better focus on the task and logically progress through the form.
Our iterative design mentality will continue to improve the form based on the feedback from our users, plus any developments available in future software upgrades.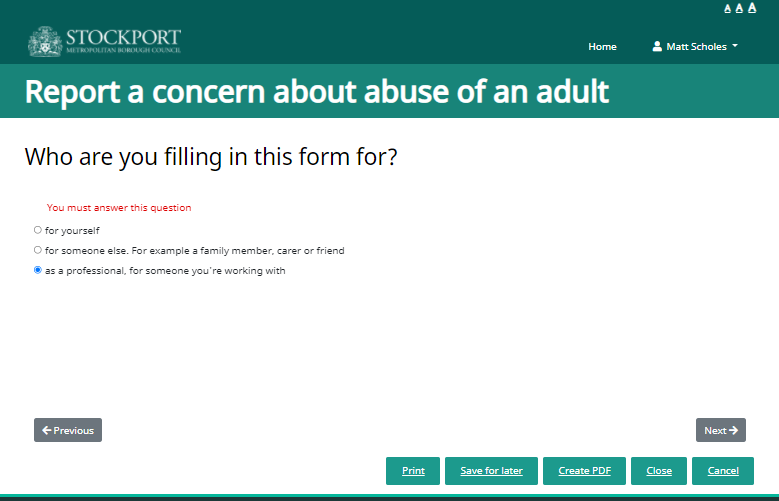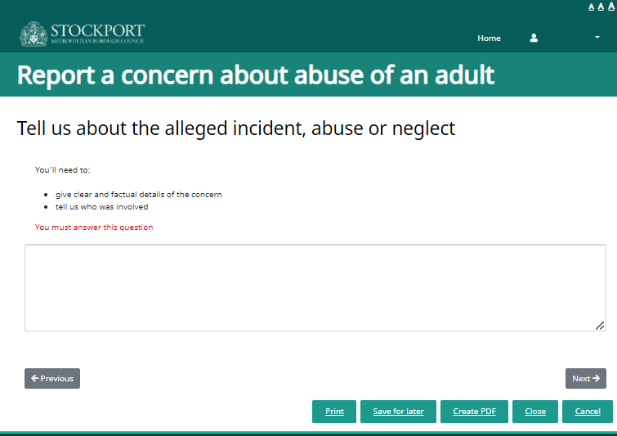 Benefits
The new form offers significant benefits:
This structure gives a better chance for a single transaction of the information, reducing (perhaps eliminating) the need for follow up calls.
The data from the online form is imported directly into the contact form of the internal database system, negating the need for typing up notes or cutting and pasting from one medium to another, minimising the risk of data loss.
The new referral route has already halved the resources required to process these referrals. 
We have also created a design template library as a blueprint for other forms, which have already been invaluable for Stockport Family's development of online forms. 
The journey
There were moments of doubt, moments of challenge, moments of utter frustration, but also moments of reflection and reaffirmation. It has been a bumpy road, never plain sailing and the final product isn't perfect. But we stuck to our guns and created a solution that provided the benefits we required and had the design and accessibility aspects that, as a council, we have purposefully adopted.
Bringing in digital experts and their knowledge has been a great learning experience for myself and the Adult Social Care service developers. The project has created a basis of understanding and appreciation that will support next and all future developments.  
Plus, I believe our form design will become the 'new curve' as more Adult Social Care services and Local Authorities align themselves to the GDS principles.
Matt Scholes is a Project Delivery Manager at Stockport Council