Information, Advice and Guidance (IAG)
The switch to our beta website on Friday 2nd December went very well and our new website has now become the default website for stockport.gov.uk. We were pleased that our intensive testing of the beta site together with advance planning for the switch including technical and Comms all played their part in the smooth transition.
Now the site is live we are getting a lot more feedback and we respond to all feedback received and are implementing changes on a daily basis to reflect comments.
Much of the feedback relates to general content queries, but also 'Where can I find this?'. We welcome feedback that helps us to improve how people find the content such as synonyms and different formats for the same type of query. All search terms can easily be changed so Services should let us know if they identify any missing terms.
At the same time that we switched we also implemented our new search system, which while outwardly looking the same to the user, is more powerful and performs much better. Our new system allows us to look in detail at what people are searching for: the trending search words and most popular search words used; but also to identify the problem areas: search words without results, ineffective searches.
We are still actively improving content and in some cases, such as Stockport Families we are building new content areas that are still undergoing user testing. There are also a few areas that haven't been moved from the old site until they have been improved. We use quick links and redirects from our search to direct users back to these legacy pages.
Content is also improved as a result of our use of the 'Site Improve' web governance suite. This checks for broken links, spelling errors and accessibility levels as well as giving us comprehensive Analytics data.
To make the most of the Key Metrics feature Services are requested to let us know precisely what they want to measure from a website perspective. This feature goes way beyond how many people come to the pages, offering precise details of the pages travelled through IAG to where they move onto other areas, for example, to set up a direct debit. There are exciting possibilities for this tool, including setting targets and calculating efficiencies and regular reporting to Service areas is available to those want them and can identify what it is they want to measure.
Case Management & Online Bookings
We are close to making a decision on whether to upgrade or to choose a new install and the different Verint options are being considered and costed with a decision expected in the New Year.
We are also looking at options for improving the integration of Lagan to Confirm (our Place Asset Management Systems) as part of the upgrade. This is a high volume area as our Contact centre, council website and in-cab technology (bin wagons) handle 50,000 cases per month. Verint have been on site to review the current integration pain points and will cost options for consideration.
Our online booking system is almost ready and will first go live in January for Local Advice Centre and Contact Centre staff to book face to face appointments. A demo was given at the Showcase demonstrating how nine Outlook Calendars have now been replaced by one system.
The booking system will be rolled out for registration bookings, initially internally to Registrars and Contact Centre staff. Online appointment booking will be available by April 2017 and there will be Comms to let the public know that appointments for births, deaths and marriages can be made via the website, with the aim of reducing calls to the Contact Centre.
This same system can be rolled out to other services in the future.
Digital Transactional Services (DTS)
'Report a fault with a street light' (our initial exemplar for reporting a fault with an asset) is now almost complete and a demo was given at the Showcase. This new feature will be used by our own Contact Centre and also by our end-users directly and is now completely mobile friendly.
It allows the user to identify the street light (or lights) concerned directly on a map, view faults already reported and any actions already being undertaken or report the precise type of new fault. A reference number is generated which raises the job with our third party providers and also allows the user to track the status of the repair. We have user tested this feature and people have been very positive about the maps feature and the information provided.
From a technical point of view this piece of work has required integration with our mapping system 'iShare' and this function will be rolled out into other areas of the web offer, such as the Events calendar currently under development.
Single View
Single View is a system and way of working which allows collaboration and for safeguarding and support to the citizen. It is a search based analytics system which brings together strings of data to provide a clear view of a person e.g. domestic violence, school attendance.
It is primarily for safeguarding so it will be used for Stockport Family in the first instance. Phase 1 will be deployed to the Multi Agency Safeguarding and Support Hub (MASSH) and Place Based Integration (PBI). It can be rolled out to the rest of Stockport Family in Phase 2 if necessary and permissible.
We've worked closely with Stockport Family to scope this first phase together with our partners Stockport Homes. Greater Manchester Police and the Department of Work and Pensions will also be involved as we develop the tool. An early prototype was demo'd at the Showcase that meets the need of the MAASH at the moment.
Comms
A range of Comms and marketing activities are scheduled for 2017 to support our websites and the general benefits of being online.
There will be Comms around specific events taking place in February and March including a Hackathon, a Digital Festival and a series of Digital Roadshows.
There will also be wider Comms targeting people who don't have digital skills or who have low confidence in online service.
We will be running a marketing campaign in February to drive people onto the website, targeting people who use the web already for banking, shopping etc. but don't currently contact the council online. Following our user testing earlier in the autumn we have developed the preferred marketing campaign, allocating messages to the different media that will be deployed.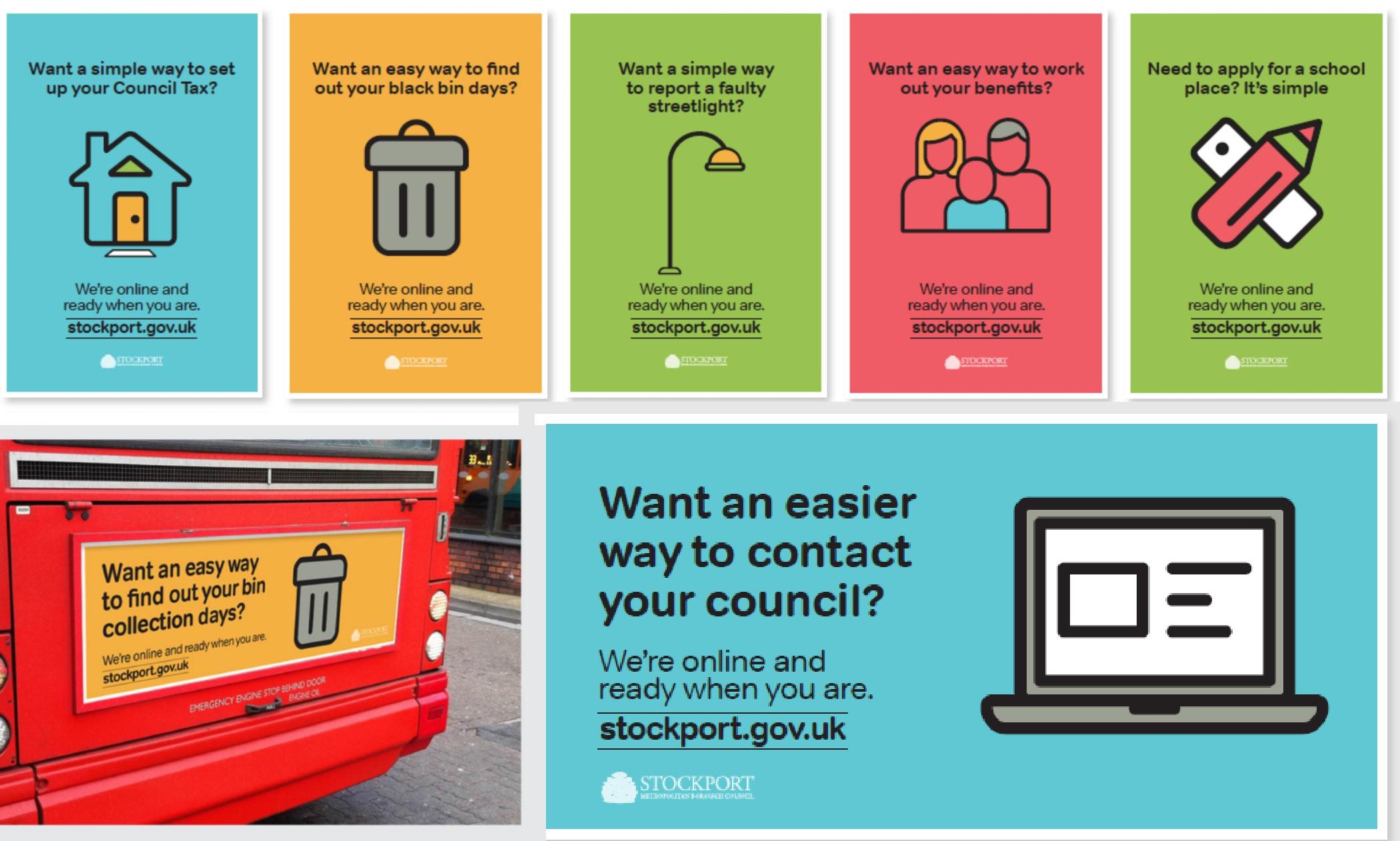 We will be using outdoor media for our messages driving people towards use of the website in general and tactical messages relating to services that have good online functionality but that currently drive high volumes of traffic towards the Contact Centre, such as council tax, bins, library books and faulty street lights.
We will be using a combination of fixed 48-sheet (billboards) and 6-sheet advertising sites (e.g. bus shelters) around the key commuter routes leading into and through Stockport together with bus rears on routes criss-crossing the Borough.
Tying in with that we will have an online advertising campaign using Facebook, the Manchester Evening News Stockport area and other local website advertising. This will be very flexible and will be reviewed week by week so we can deploy our budget most effectively according to the relative success of the different media and messages at driving traffic to the website.
In addition we will be sending a leaflet with the Council tax bills during March to demonstrate the range of services available on the website.