The Digital by Design programme was funded to build new digital tools to support the future operating model for Stockport Council, incorporating new ways of providing Council services and new working practices.
The emphasis has been on building capabilities that we can use for years to come to maximise the value derived from the investment in the programme. This is why we have focussed on enhancing the skills base of our own staff and why some level of re-usability has been built into all new products.
We recently ran a series of Executive Showcases to outline the new tech that has been built and all Heads of Service were invited to consider any opportunities for applying the new tools to current areas of work as well as for assisting future growth and reform plans.  Services have all been asked to look at how they can make future savings and it is expected that digital will be at the heart of this.
Re-use of digital tools is not cost-free but it is significantly cheaper than buying in new solutions and we have reached the stage in the programme where we now need to scope new applications across all the Services. We will have to prioritise but we are inviting ideas for the next exemplars that will demonstrate real benefits for end-users and the Council, from Services who are willing to invest their time and ideas in the collaborative user-based development process. We are looking for pilots to demonstrate the full service design capability of the new platform that has been developed.
So what are the pillars of our new technical platform?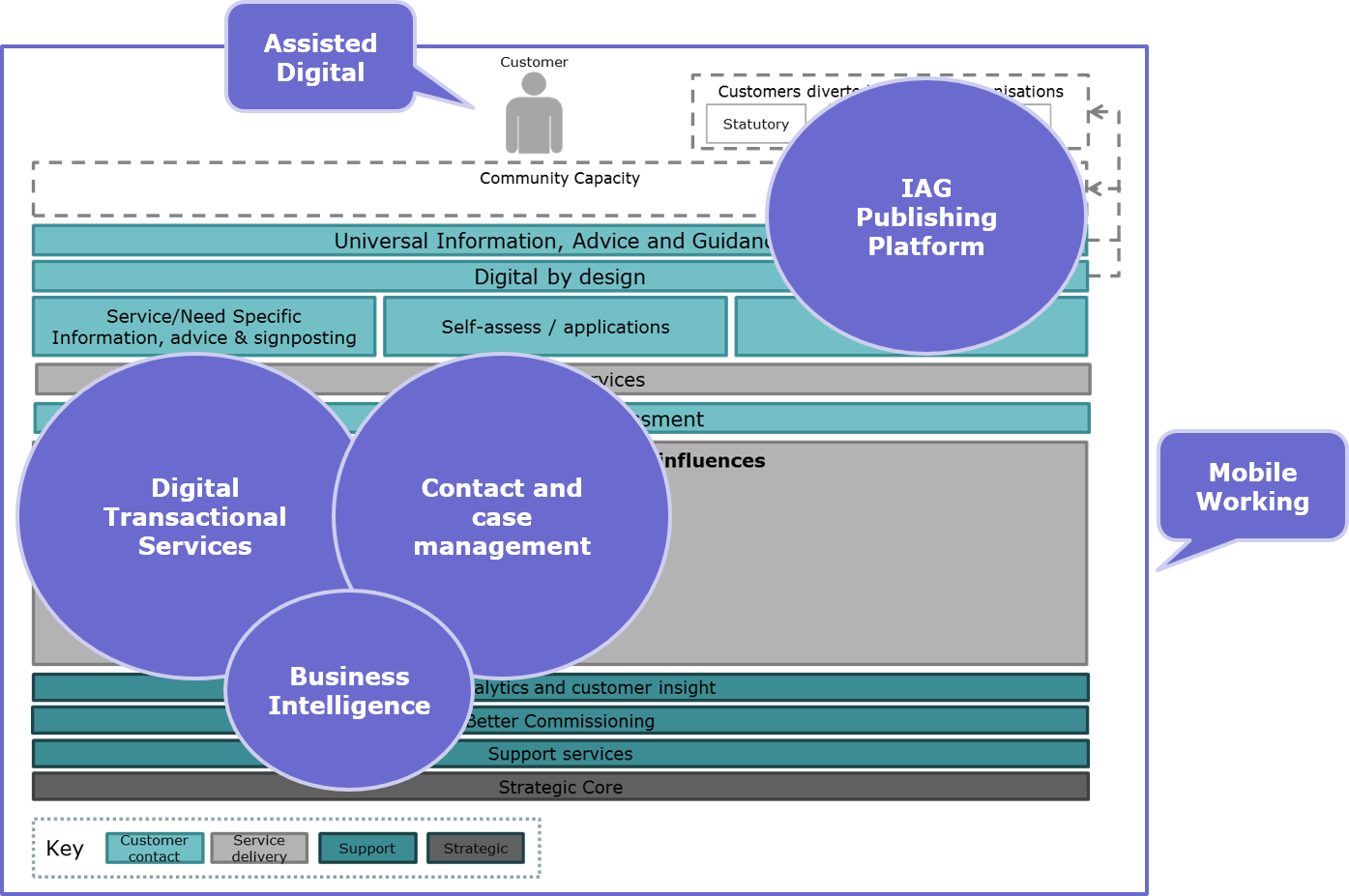 New website capabilities (IAG Publishing platform)
Most Stockport's residents can access information from websites and complete online transactions independently.
We have built a totally new council website: www.stockport.gov.uk
It has been built for mobile devices, tablets and desktop computers
There is a much improved search facility
We have a brand new infrastructure and hosting service to bring more stability and resilience to the website
We have improved analytics to guide Services and can create key metrics/key performance indicators for Services that require them
We will be launching our new Groups Directory in the very near future. This is a rollout of the capability developed for our Events calendar and will be the subject of another blog
With the basic 'building blocks' in place we can create multiple websites using different content and displayed with different designs, such as www.healthystockport.co.uk.
New 'My Account' dashboard (Digital Transactional Services)
My Account is the new way to access personalised information about council services online.
Citizens only need an email address and five minutes to sign up and view waste collection information – no waiting for passwords to be sent by post
They can reset their password without human intervention any time they wish or need to
They can view their Council Tax information by answering questions online which will be used to verify them against information in the back office system
They can track a faulty street light report
We have focussed initially on the areas that bring the highest volume of queries to the Contact Centre. By increasing digital uptake we are reducing the number of telephone and face to face contacts to the Council.
The Digital Transactional Services (DTS) team have developed reusable components including:
online forms
interactive mapping functionality that works on all devices
case management system integration
appointment booking system integration.
These capabilities will be rolled out to other Services in the future. Already in development:
Report and track a blocked grid
Book a Registrars appointment online
View housing benefits and council tax support information
New Contact and Case Management system
VERINT is the new system for any services requiring Contact or Case Management and will replace the LAGAN system previously used by the Contact Centre and other services.
VERINT has many enhanced features including the ability to display information within the interface, so staff in the Contact Centre can be guided through calls by scripts and Information, Advice and Guidance (IAG) from the Council website. Transactions can also take place within VERINT enabling staff to submit an online form on the Council website on the customer's behalf.
This system will be made available to other Services not currently using a Case Management system.
New online booking tool
We have built our own 'SMBC Bookings Live' dashboard to facilitate our online appointment bookings (currently for staff-use only).
For Services this offers:
Schedule an appointment by service, location, resource
Book an appointment online
Record walk in appointments and Did Not Attends
Receptionist interface for managing arrivals
Send out scheduled reminders the day before appointments
KPI's for total bookings, trends and staff performance
Manage appointment slots and resources
Cancel and reschedule appointments
New Single-View dashboard
Our new 'Signposts' application pulls together data from many different sources and displays them side by side in a single view.  The simple visual interface allows professionals to spot patterns and quickly get a feel for issues that are faced by or created by an individual or family.
User testing has been carried out with Stockport Family MASSH team and continues with the Brinnington place-based integration team.
This system will be made available to other Services with other datasets that could be usefully combined.
New Business Intelligence (BI) tools
We have built our new data warehouse with:
Automated data processing – less manual work
Restructured system data – easier to report and analyse
Nightly refresh – up to date data every morning
We have introduced 'Tableau' a new visualisation tool that:
Has a self-service dashboard– staff can generate their own insights
Displays data visually – quicker for users to consume and visually analyse their data
Is interactive – users can drill-down into their data
Operates on-demand – linked to data warehouse and available as and when users require
The initial exemplar was used within Children's Social Care where there are currently 14 live dashboards that have been accessed over 5000 times! It is proving a key operational and tactical management tool, improving case recording and data quality and we are seeing a correlation between use of the dashboards and improved service performance.
New mobile working pilots
Mobile working will allow practitioners who are out of the office on visits to access and update records and upload case notes on social care systems in situ or on the go. This:
Saves time by alleviating the need to travel back to the office to complete work
Allows more time to be spent with children and families
Speeds up the completion of assessments
Provides real time recording and increases accuracy of case notes and records
Allows for greater engagement with children who can interact and draw directly onto the tablet.
Pilots are being conducted by Stockport Family with Social Workers and School Age Plus Workers and by Stockport Together among more than 500 workers from across Stockport Council and NHS.
Assisted Digital
Helping our residents to become digitally included is a priority for the Council.
Our DigiKnow initiative is starting to build and we have good buy-in from third sector partners. We hope to extend this alliance over the coming months and will be supporting it in a number of ways.