We are Community Computers, a not-for-profit project delivered by local charity Renewal North West, and we exist to tackle digital exclusion, unemployment and e-waste through repairing and refurbishing donated tech. We're working with Stockport Council and are part of the DigiKnow network, helping Stockport get online.
To mark 'Digitober', and as a DigiKnow partner, we are calling for businesses to go green, reduce their carbon footprint, and commit to increasing their social value and reducing the digital divide in Stockport by donating their tech to help residents to get online.
Data security
The scheme provides professional I.T. asset management for both private and business customers to repair, refurbish and recycle technology that can be used to support those digitally excluded.
Community Computers offer secure data destruction for all donated devices, using ATA secure erase methods (where supported), with proof of destruction provided as a detailed report.  Physical destruction of SDD, HDD and other magnetic-based media can also be carried out with our data crunch 250 and degausser.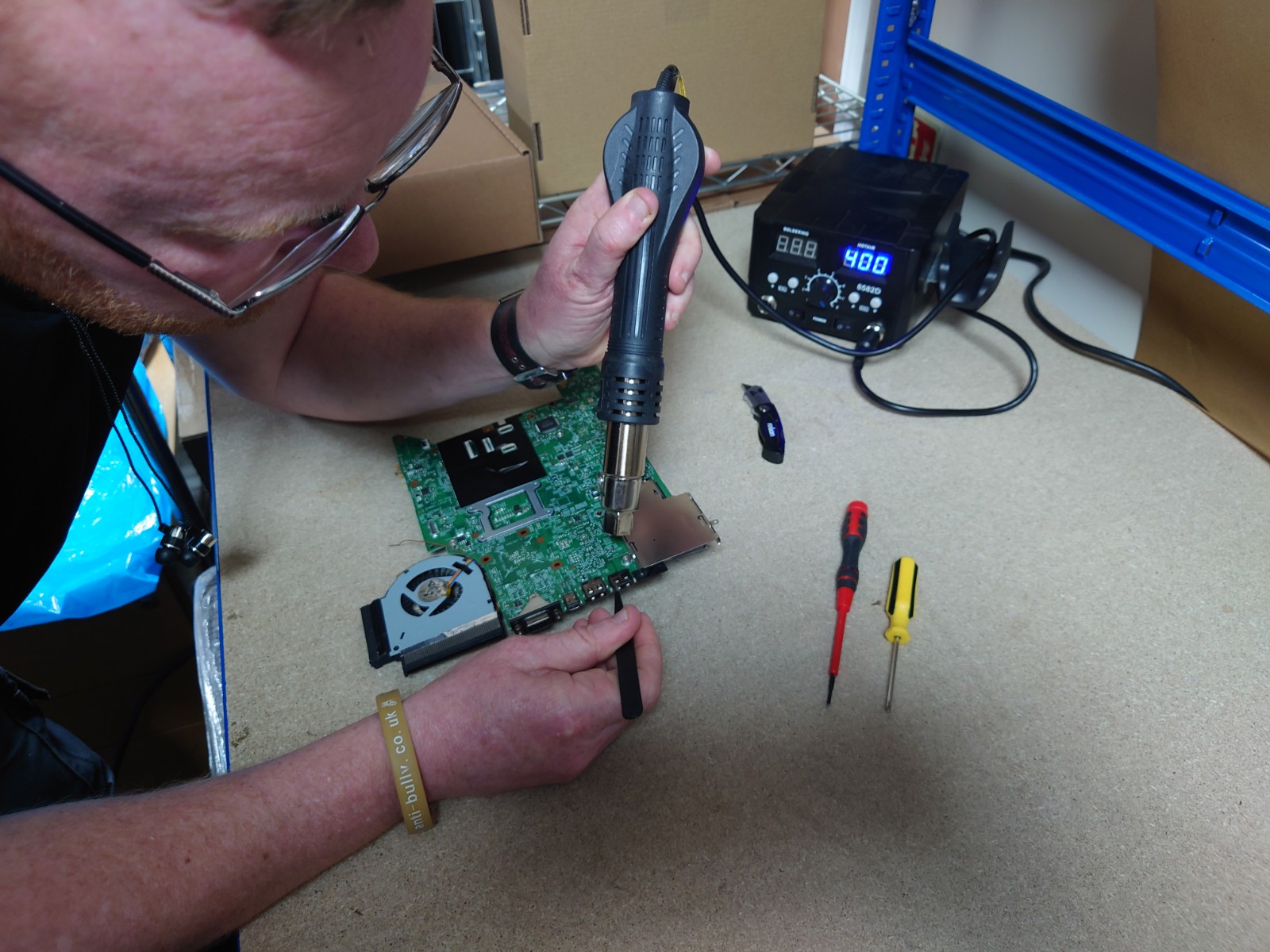 We offer a free collection of redundant technology, including laptops, desktop PCs and smartphones, and use an in-house asset management system to process and track equipment. We can even come on-site and destroy data on the spot.
Supporting residents to access tech for as little as £50 through to December 2022
1 in 5 people in Stockport have little or no access to the internet, many of whom are on a low income or unemployed.  It is estimated that 1 in 3 of those digitally excluded lack access to digital equipment.
Not being able to get online means people can become more socially isolated and are less likely to access essential support services. There is a real digital divide – the need for low-cost and accessible, quality digital devices is greatest amongst those with limited financial means.
In response to the rising cost of living in the UK, we wanted to review our support over the next few months to further help families and individuals affected by these challenging times. So, we are pleased to announce that from now until the end of December 2022, the project will be able to provide fully refurbished and licensed laptops and desktop PCs to Stockport residents for as little as £50.
If you or someone you know would benefit from a low-cost device, call 0161 476 2777, visit Renewal North West in Shaw Heath, or the Community Computers online shop. Devices are limited to 1 per household, and you'll need to show evidence of low-income status.
We also signpost to digital support services through the DigiKnow network to help individuals on their journey.
One resident who has benefitted from a refurbished device said:
It's incredibly helpful …It's enabled me to complete an online course that otherwise I would have struggled to do. It will enable my older school child to get any computer or online schoolwork done. When I try to return to work later this year, when my youngest starts school, it will be a big help then, as for health reasons, I may end up needing to work from home or be computer/internet based which would not be possible without this laptop. It's a big weight off my shoulders.
Help us tackle the digital divide and help others get online
We're a local not-for-profit led by a small team and supported by wonderful volunteers who donate their time to deliver our mission. The success of the scheme really does depend on tech donations coming in, and so we encourage any redundant devices to be donated to the operation.
We offer free collections from across Stockport. You can arrange this by calling Community Computers on 0161 476 2777 or visiting communitycomputers.co.uk. Or you can drop off devices at any Stockport library.
If you have devices you no longer use, please do donate them!