A New Year and a new feature for the blog – we are now accepting Comments. We would welcome your feedback on our websites and our digital programme via this channel. Now for the programme update…
Information Advice and Guidance (IAG)
We have turned our focus on Community with two new features under development:
Events Calendar
Our Minimum Viable Product (MVP) for Events is almost ready to go live. This is an Events Calendar, which allows users to search for events, filtered by their chosen time period. The Events Calendar will be accessed from the website home page. A demo was given showing how the key information on type of event, location, pricing etc. will be displayed.
A key feature is the facility for third parties to submit events for inclusion within the calendar (at the Council's discretion). Organiser and contact details for all third party events will also be included within the event listing details.
Whilst this MVP version is being tested in a live environment we will continue to enhance the feature, building in maps, links between events and recurring events.
Community Groups
Our User Experience (UX) team have been developing a prototype for our 'Find a local Community Group and Local Services' feature. The user will be able to search for a group by location or activity. The search will result in a list of matched events and selecting an event will bring up a full description, location details and contact information, similar to the entries in our Events Calendar.
This feature is still at prototype stage and we will continue to develop it placing particular importance on ensuring we always have up-to-date information.
Digital Transactional Services (DTS)
Since our Council Tax feature went live, we have continued to develop functionality based upon user feedback. Improvements have included splitting transactions from payment history to improve legibility, and the addition of the facility to download a hard copy of your bill.
The new 'Report a faulty street light' feature has also been refined with the addition of the ability to track faults from the first report until the case is closed.
Next we will be working on the 'Report a blocked gully' feature.
Assisted Digital
We recognise that for many people getting online is not yet an option so we are committed to supporting people to get online and develop their skills. In Stockport we know that 12.8% of adults have never been online and that 1 in 4 adults don't have all five Basic Digital Skills: Managing Information, Communicating, Transacting, Problem solving and Creating.
Older people and those on low incomes or with poor health are the least likely to be online or, if they are online, the least likely to have all 5 basic digital skills. Our Assisted Digital programme aims to engage with residents who are more resistant to moving online, grow confidence in digital skills and staying safe online and use digital to bring people together.
We are planning a programme of Community Events during 'Digital February' which will coincide with the "We're online and ready when you are" promotional campaign to launch our new website. This programme of activity and events will highlight some of the benefits of being online and demonstrate how much fun digital can be.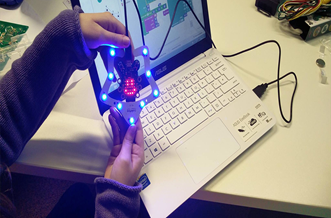 Full details will follow over the coming weeks, but a brief outline of planned events is as follows:
Stockport DigiFest – Saturday 18th February in Central Library. A fun day of activity for all the family. We will be inviting people to try something new online – be creative, or trace a family tree for example – or just to learn how to get online, stay safe, keep in touch and save money.
DigiFest Community Roadshows with a focus on school readiness for families, developing new skills for adults, saving money and applying for work and benefits:
Brinnington First House – 9th February
Bridge Hall Community Centre – 27th February
Offerton Community Centre – date to be confirmed
Reddish – date and location to be confirmed
Hackfest – 21st and 22nd February – a 2 day event in partnership with schools and colleges to encourage the development of coding skills in young people aged 14 to 18 and involve businesses in setting coding challenges.
Stockport Hackathon – 4th March – a 1 day event where professionals, amateurs and students (aged 16+) with different skills come together to use data to help the citizens of Stockport connect with their wider community. To reserve your place visit:  http://www.digitalstockport.info/hackathon
Business workshops at Stockport Business and Innovation Centre – further information available soon on the Business Growth Hub website:
17th Feb – Developing an online profile
28th Feb – Improving your digital presence
Mobile Working
Last year we:
improved the security of our mobile devices which has required upgrades to Windows 10
Improved connectivity using MS Direct Connect
Introduced User Environment Virtualisation (UEV) speeding up connection times
Piloted several types of tablet and we now have a preferred model
It was essential that we trialled everything with our service users so we have been working closely with Stockport Family to resolve the key issues including getting connectivity and access to resources when away from main office.
Recently we have:
Introduced tethering to mobile phone for network connection by Bluetooth
Improved 4G data deal – making Sim in tablet more affordable
Upgraded domain controller for Windows 10 profiles
Understood the working environment and the need to resolve problems with Ink to text and handwriting recognition short cuts
Single View
We are using the Place Based Integration Data Sharing Agreement as our DSA for Single View. This will assist with scalability if successful as it includes a number of key partners.
We are currently working with Education and EIS information. We will shortly be working with Stockport Homes and Revenue & Benefits and we hope to work with other partners in the near future.