Through my involvement with different projects, I have enjoyed many opportunities to collaborate with talented people in different roles, both within the digital team and outside of it. I hope by sharing experiences from some of those projects, this may be useful to others in their own work.
Patterns, patterns, patterns
During the Financial Landscape project described in Part 1, FutureGov brought in a very interesting concept that they were trying to test and better understand. The concept of 'Service Patterns' is something that the Service Design community continues to discuss, but when we first started looking into it, it was a brand-new idea and one that I personally found very exciting.
The concept is simple: that there are similarities amongst many Services in the way that they operate, both for the end users, and for the staff. These similarities can be grouped into categories such as: pay for something, book something or order something. Using our work on the Financial Landscape project, we analysed the patterns used by many of the council's services and were able to demonstrate how the concept worked across very different Services.
As an example, take two Services that couldn't sound more different: Bulky Waste (which we talked about in Part 1) and Notice of Marriage. At first glance, these two Services seem worlds apart. However, the more we investigated it, the more they seemed to possess the same key elements from the user's perspective. These elements are: book an appointment, pay for the appointment, change that appointment (sometimes), attend the appointment and finally receive any further necessary information.
And this meant that we could use similar back office systems and processes for both Services and reduce the need for additional system implementations. We created a shared online workspace that explained the purpose of each of the patterns and how to identify if a project has the necessary elements of that pattern or not. We also created a guide to explain how to use these patterns to establish insights on new projects, based on work done on other projects previously, saving time and effort.
As we looked further into the concept, it became clear that Service Patterns had direct links with design elements and our digital team worked to create a reusable design pattern library to help create consistent ways to design and implement user journeys. You can read more about the creation of Design Patterns in an earlier blog.
New opportunities: exploring cutting edge service design concepts and using collaborations with the wider design team to take these forwards. Design is a team sport and this project helped me to realise the true importance of working with other disciplines at all possible opportunities.
Discovery is the cornerstone of Service Design
At Stockport Council we've been running Discovery sessions with many different Services. I'm a firm believer that if we can spread Design thinking to as many different people as possible, the process will not come as a surprise and it will be a much more collaborative and harmonic learning experience for all.
I've been afforded the opportunity to attend several excellent service design conferences which have allowed me to bring ideas back to the team so that we can all become better Designers and Analysts together. I want to share these learnings as widely as possible.
I've been reflecting on my standard approach to a Discovery phase and how to find the balance between being too vague and too specific. Too specific runs the risk of being more like a strict set of rules than a guide; too vague then it would quite simply be useless.
What I've arrived at can be seen in the image below. Or you can simply read it here:
Vision: set expectations and establish key points of contact.
Identify key questions: what are the experiences and processes for the users and Service personnel?
Activities: What activities should you run to answer the previously identified questions?
Reflect: Have all the questions been answered? If not, what needs to be done to answer them?
Playback: feedback to the Service with what you have learnt and establish next steps. This can be done several times throughout a Discovery if necessary.
New opportunities: Seeing other people's projects across the country has allowed me to gain insights without having to make the mistakes for myself. As designers it is key that we share these insights as often as we can. If we can spare another designer the pain we potentially endured on a project then we should at all possible opportunities. The same goes for sharing with Services. Everyone has the ability to be a designer. The benefits of fully understanding a Service and its users cannot be underestimated. We have found time and again that once a Service has experienced this, they will often take our approach and use it in their own projects to great success.
The chance to embed design thinking
Whilst working on the Business Support project mentioned in Part 1, I was asked to support the same team with a separate 'mini' project. The procurement project aimed to find the most efficient and cost-effective way for the council to purchase internal products. The project started with a request from the Service for a new 'amazon-like' system that allowed them to place items in a cart and to simply purchase. However, they were not 100% confident in this idea, so a Business Analyst and I ran a Discovery into what was necessary and what was desired.
We started this Discovery process by trying to understand the current process and the issues (pain points) people were experiencing in this process. We ran a couple of workshops with members of the relevant teams to find out all this information. From this, we found out that the issues had nothing to do with the way the products were presented, but rather with how it was managed in the back office. This suggested it would be much more cost-effective to change the back-office process and to implement a google form for users to make purchase requests.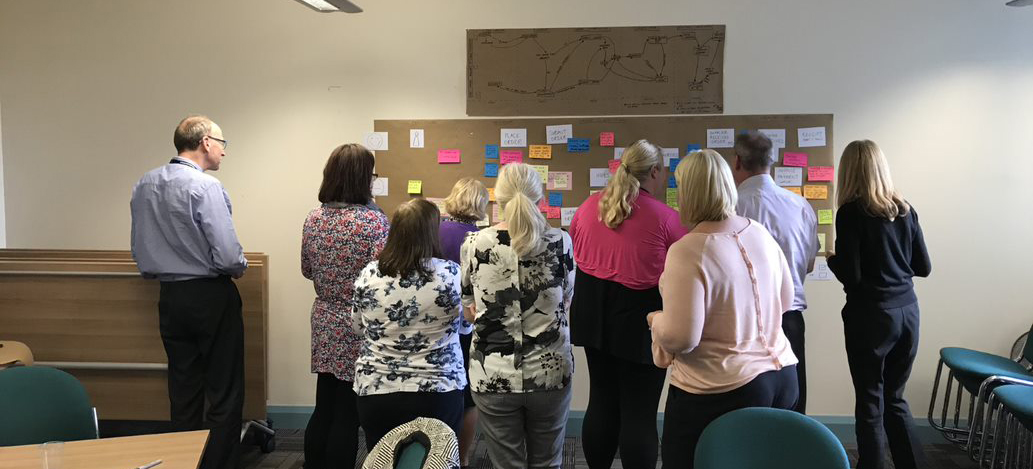 To test this 'hunch', we ran a workshop in which we put all the individual elements of a potential purchasing website on pieces of paper and asked the Service to create the ideal website. We expected that they would immediately create something very similar to Amazon's website. However, we discovered that they wanted something much simpler and less costly to implement.
We presented what we found to the Service from our workshops and showed them our suggestion (based on evidence) for a more efficient and cost-effective process. This was met with positivity and they could now proceed with confidence knowing they were doing the right thing and choosing the best possible option.
New opportunity: Sometimes there will be projects that have been started too far into the double diamond and the Services may have reached a solution far too early. This is not their fault and it is your job to take them on that journey of Discovery and to gather the necessary insights and evidence. Take these opportunities to embed that Design led way of thinking so that people don't start at the solution but instead they start by discovering what is required for a great solution.
Personal development
I feel lucky to have been given many opportunities that have allowed me to grow as a designer. However, there was one aspect of being a designer that I have always struggled with and striven to be better at, and it's something I've needed to do by myself: presenting. I get very nervous and sometimes I would feel ill at the thought of having to present my work to a room of strangers. It's a fear that stems back to having a speech impediment as a child. Presenting was something we were made to do at university and this lack of choice only made it worse.
Presenting at Stockport Council has been a complete contrast to what I have experienced in the past. Presentations were so much more enjoyable than anything I had done previously for a few different reasons, the main one being that it was always a choice and never a requirement. And if anyone decided they wanted to do a presentation on a subject, there was coaching available which personally I found very helpful. As well as this, it was always advised that you present as a team if you didn't feel comfortable on your own. This helped me build confidence the first few times. There was also another important reason, one that's potentially the key to doing a great presentation: Passion. You have to be passionate about what you are presenting, and it's made so much easier when it is about something you have worked very hard on.
There have been many different types of presentation opportunities from standard workshops and showcases to mid-size conferences and even large open days. The more I did them, the more I found that audience size wasn't really an issue and it was just something I had built up in my head. And it has made me hungry for more opportunities to present the work that I am passionate about.
New opportunities: taking up as many opportunities to present as possible, to overcome my fear. I have been fortunate enough to learn from some great presenters both at the council and at conferences. And I've been allowed to experiment with different presentation tools and software such as Miro and Canva.
Thanks again for reading, if you have any questions then feel free to reach out to me.